SFL Worldwide Accreditations
Proud to share every certification and accreditation that assures an exemplary level of service and quality shipping to our customers.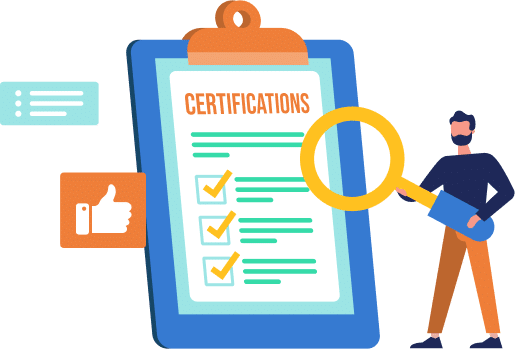 Get Quote and Save UPTO 70% on your next shipping

Please select from country

Please select to country

FMC is an independent federal agency, based in Washington, D.C., responsible for the regulation of ocean borne international transportation of the U.S.

We are accredited by the NCBFAA, which represents more than 1000 of the nation's leading freight forwarders and other member companies.

IAM is the moving industry's trade association. Our members are auditing, forwarding, shipping and moving companies from around the world.

The BBB is a nonprofit organization focused on advancing marketplace trust consisting of 112 independently incorporated local BBB organizations.

The TX DOT is a government agency in the Texas USA & responsible for overseeing aviation, rail and public transportation systems in the Texas.

TSA is an agency of the U.S. Department of Homeland Security that has authority over the security of the traveling public in the United States.

We are certified under ProMover, a program that recognizes the most professional movers with high ethics and great professionalism in the country.

Certified by AMSA, a non-profit trade association that represents more than 4000 members, of van lines, agents, independent movers and forwarders.

JCtrans is a global logistics community. Relying on e-commerce & online platform to provide global services for freight forwarders & logistical service providers.

DHL Express is a division of the German logistics company Deutsche Post DHL providing international express mail services.

UPS is an American multinational shipping and supply chain company. We work with UPS and other carriers to get you the lowest rates in the industry.

FedEx Corporation is an American Shipping Company, headquartered in Memphis, TN. We work with FedEx and other leading couriers to keep our pricing competitive.
Your trusted logistics partner for hassle-free door-to-door shipping and moving services.
I've used SFL Worldwide for the past few years and I've been very happy with their service. They are always on time, their prices are reasonable, and their customer service is excellent. I would highly recommend them to anyone who needs a reliable courier service. Here are some specific examples of why I'm so happy with SFL Worldwide They have always been on time with my deliveries. I've never had to wait longer than expected for my package to arrive. Their prices are very reasonable. I've found that they are often cheaper than other courier services. Their customer service is excellent. I've had to contact them a few times with questions or concerns, and they have always been very helpful and responsive. Overall, I'm very happy with SFL Worldwide. They are a reliable, affordable, and customer-oriented courier service. I would highly recommend them to anyone who needs a courier service.
Mahesh Darshan
2023-05-20
Very supportive and patient. Documents reached on time. I would recommend their services to everyone. Thanks Mr, Punit for your guidance.
Best service with best rates
Chandramouli Potnuru
2023-05-11
SFL is Rocking!!! I had a urgent need to ship some legal documents to California from Texas, I have immediately called Punit from SFL as usual he has done his magic. The service is really superb and highly recommended.
Great service for my documents shipping from Hyderabad to USA. Reasonable rates and great customer service. I will recommend their services.