Reliable International Relocation Services
Connecting you to over 200+ destinations worldwide with our reliable international relocation services. SFL Worldwide is your trusted shipping partner for safe international relocation at highly affordable prices.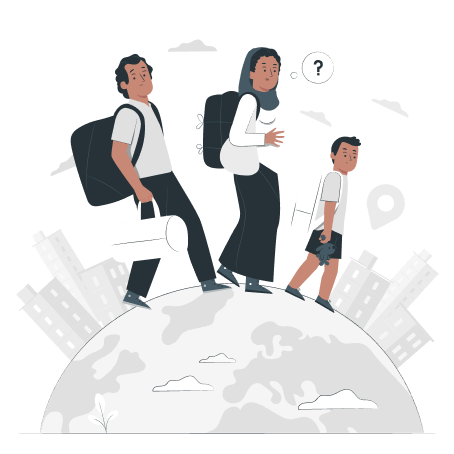 Get Quote and Save UPTO 70% on your next shipping

Please select from country

Please select to country
Door-to-Door International Relocation Services
At SFL Worldwide, we aim to put people and businesses on the world map by connecting them to various destinations across the globe. Our expertise in performing domestic and international relocations spans well over a decade.
Our tailored solutions help you tap into new markets or start living in a new country within no time! No matter the size of the move, with SFL as your shipping partner, you acquire a team of highly trained professionals to carry out your relocation overseas at highly affordable prices.
SFL Worldwide is a fully licensed, bonded, and insured moving company offering a comprehensive suite of relocation packages via air, ocean, and ground transportation. We have a highly connected network of moving agents, customs brokers, and delivery partners to serve our customers with an effortless overseas relocation experience. Our overseas relocation experts assist you with determining relocation volume and offer you the best selection of packages to haul your goods to the final destination.
International Moving Plan
International moves can be a daunting task. At SFL Worldwide, we help you plan your move carefully by choosing the right mode of transport for your budget, speed, service, and planning for customs. Our ultimate goal is to execute a stress-free move for you and your family with an easy-to-follow plan.

Our primary goal is to help employees from small-sized to fortune 500 organizations transition smoothly into their new locations with our seamless international corporate relocation experience.

With our comprehensive experience in organization relocations to serve all kinds of organizations, including Embassies, NGOs, Diplomats, and Religious Organizations.

At SFL Worldwide, we offer our dependable relocation services for domestic and international moves. Your household items are safely and reliably delivered with real-time tracking.

At SFL, we specialize in moving your entire organization from one place to another in a careful and planned manner. Transition into new markets with our streamlined process.
What a Full-Service Move at SFL Worldwide Offers
Once the items are loaded onto a truck, the contents are transferred to the final mode of transport you chose at the time of booking – by land, air, or sea. The items are then stored and processed to be transported to their final destination. Some of the steps involved here include –
Free On-Site or Video Survey
Disassembly & Packing of all Household Goods
Onsite Custom Crating for Fragile Items
Export Documentation, Including Insurance Options
Transportation to Consolidation Center for LCL shipment
Container Haulage & Loading On-Site for FCL shipments
Ocean, Air, or Ground Transportation To Destination
Professional Custom Clearance at Destination
Transportation to the Final Destination
Delivery, Unpacking, and Assembly of Basic Furniture
Why move overseas with SFL Worldwide?
At SFL Worldwide, we have special contracts with all major carriers that lets us offer nearly 70% off discounted pricing for our customers than booking directly with the carriers.
Finding and negotiating pricing with shipping companies is a time-consuming process. Our instant rate calculator gets you the lowest pricing from all carriers within seconds.
Licensed, Insured, & Bonded
SFL Worldwide is a licensed freight forwarder for air, ocean, & ground shipping. Our ocean freight services are licensed under NVOCC by FMC and load directly with airlines as an IAC with TSA.
Our packing experts take extra care to ensure your belongings reach your door in great condition with professional packing expertise, including custom crating for fragile items.
At SFL Worldwide, we aim to make shipping as easy as possible for our customers. We offer free door pick up and delivery on most shipments. Simply ask us at the time of booking.
SFL is a trusted shipping service provider with an A+ rating from the Better Business Bureau. We pride ourselves on providing safe and quality logistics for packages and large-scale moves.
International movers complete your move door-to-door.
Whether you're looking for international relocation companies Europe or any part of the world, SFL Worldwide is your one-stop relocation service provider for hassle-free moves with low, competitive rates and door-to-door delivery
International Moving Costs
Our hassle-free planning at SFL Worldwide offers all kinds of international relocation services, from entire household relocations to corporate transfers. The cost to move your belongings depends on several factors – The cost to move your belongings depends on several factors –

We are a licensed NVOCC agent with FMC, which allows us to work directly with various shipping liners and offer our customers with best ocean freight.

Our vast network of providers excels at ground transportation and can move your belongings to any country at highly affordable prices.

As licensed freight forwarders, we are eligible to load your freight directly into airlines & offer you the most economical rates for your move.
Check Out Our Moving Blogs
Immigration and Visa Processing
SFL Worldwide has access to immigration specialists who can guide you in understanding local laws, necessary documentation, immunization requirements, and more. This is crucial, especially when importing household goods to another country.
Some of the documentation you want to ensure are in order before your international move is –
To move overseas, you must ensure you have submitted an application and received the appropriate visa for your moving need. For instance, you may be moving for work and may, therefore, need a work visa for the destination country. Some countries may not require citizens of specific countries to get a visa. You can contact the immigration department for your destination country to obtain this information or contact our advisors for further info.
This is the first and most important document of all in an international move. A passport enables you to travel to any country of your choice. It is quite literally the most important document of your life.
Other documents that you may require for an international move –
Birth Certificate

Marriage Certificate, if any

Medical Records
Social Security Card

Driver's License

School / College Certificates
Divorce Papers

Child Custody Records

Adoption Papers
Immunization records

Child Custody Records
Your trusted logistics partner for hassle-free door-to-door shipping and moving services.
I've used SFL Worldwide for the past few years and I've been very happy with their service. They are always on time, their prices are reasonable, and their customer service is excellent. I would highly recommend them to anyone who needs a reliable courier service. Here are some specific examples of why I'm so happy with SFL Worldwide They have always been on time with my deliveries. I've never had to wait longer than expected for my package to arrive. Their prices are very reasonable. I've found that they are often cheaper than other courier services. Their customer service is excellent. I've had to contact them a few times with questions or concerns, and they have always been very helpful and responsive. Overall, I'm very happy with SFL Worldwide. They are a reliable, affordable, and customer-oriented courier service. I would highly recommend them to anyone who needs a courier service.
Mahesh Darshan
2023-05-20
Very supportive and patient. Documents reached on time. I would recommend their services to everyone. Thanks Mr, Punit for your guidance.
Best service with best rates
Chandramouli Potnuru
2023-05-11
SFL is Rocking!!! I had a urgent need to ship some legal documents to California from Texas, I have immediately called Punit from SFL as usual he has done his magic. The service is really superb and highly recommended.
Great service for my documents shipping from Hyderabad to USA. Reasonable rates and great customer service. I will recommend their services.