Domestic Relocation Services
Experience seamless relocation services for residential and commercial purposes with SFL Worldwide. Our domestic relocation services are designed to suit your long-distance moving needs in the United States. Find competitive rates for hassle-free domestic relocations.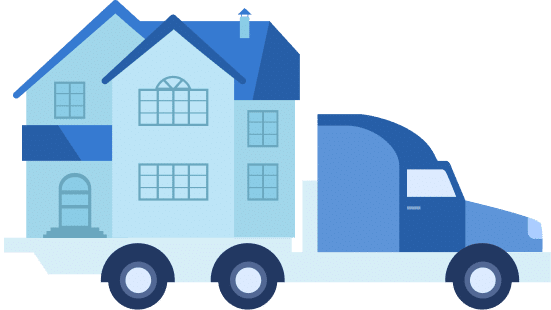 Get Quote and Save UPTO 70% on your next shipping

Please select from country

Please select to country
Our Domestic Relocation Process
At SFL Worldwide, we keep our domestic relocation process quite simple. Moving can oftentimes be a stressful process. From planning for the number of boxes required to the type of boxes for different categories and ensuring they are safely delivered can take a toll on our energy and time. At SFL Worldwide, our aim is to simplify and eliminate the stress of a relocation process, allowing you to enjoy your move to your new location.
Here is a brief overview of our domestic relocation process at SFL Worldwide.

Conduct Background Checks
The first step in our domestic relocation process is to conduct a background check of the assigned mover for safety records, certifications, such as Better Business Bureau, and ratings on review sites. We want to make sure that you are assigned a reputable and highly-reviewed mover to handle your relocation within and outside of the United States.

Verification of DOT Authorization
Our second step is to ensure that the mover has a valid DOT along with a valid operational authorization from the Federal Motor Carrier Safety Administration to transport your belongings to the final destination. This is important because a highly skilled mover provides top-notch domestic management services and ensures your belongings are safely delivered to your destination.

The third step is to verify if the mover is able to offer minimal liability options with relevant insurance coverages to make up for lost or damaged goods in transit. They must be compliant with their state of operation. A well-reputed mover will take responsibility for the safety of their client's belongings involved in the physical transportation.

Ensure the Safety of Belongings
The last and final step is to ensure your belongings are protected with solid contracts for every move. A certified binding contract is written up by the mover to include what gets covered and what doesn't. This is especially important as this contract lays out the conditions of the relocation and must be agreed upon before proceeding with the actual relocation.
Domestic Relocation Policy
At SFL Worldwide, we are all about making your life easier from the time you shop for quotes till your belongings arrive at your doorstep, we ensure everything remains smooth and stress-free.
Domestic Relocation Policies vary from one company to another and can be quite specific for office-related transfers. These policies spell out every aspect of your move, from the applicable allowances to the overall logistics for your domestic relocation. We highly recommend checking with your organization on their domestic relocation policy before proceeding to make a booking with us.
All domestic relocations are assigned a dedicated moving advisor who guides our clients through all the steps of the domestic relocation process. Ultimately, SFL Worldwide is keen on working with you, your family or your company to get you connected with reliable movers and provide access to our discounted pricing.
What Our Domestic Relocation Service Includes
Free On-Site or Virtual Survey

Documentation includes Packing List and Insurance Options.

Unloading, Unpacking, and Assembly of furniture

Removal and Trash of Packing Junk and Debris
Disassembly and Packing of Household Goods

Loading & Transportation to Destination

In-transit Storage
Why Choose to Work With SFL Worldwide
Finding a reputable domestic relocation company with the right equipment, technology, and pricing can be a hassle. It can take hours, if not days, to find the right mover for your domestic relocation needs. Coordinating with the mover until your belongings are safely delivered is an equally important and challenging part of the moving process.

SFL Worldwide scours the industry to find a highly reputed and skilled mover for your domestic relocation. We are connected with a vast network of moving professionals with tools and equipment for every need. Your dedicated moving advisor assists you in finding the right mover for your needs.

Every booking made on SFL Worldwide is assigned a special moving advisor who handles your move door-to-door. The advisor assists you in not only ensuring your belongings are delivered in a safe manner but also connecting you with local professionals to help with pre-move and post-move support.

Trusted Shipping Partners
SFL Worldwide works with only reliable, trustworthy providers who can stand by their work and offer our customers the best services for a hassle-free move. Every mover can offer the minimum liability options per industry standards and guarantee a stress-free move every time.

Whether you're moving for personal or official reasons, our moving team will offer complete door-to-door support for every domestic relocation booked with us. Not only this, but we also go above and beyond in helping you pack your precious, fragile items that need extra protection.

We understand moves can be a stressful period. Our agents are here to answer your queries and support your requests 24/7. Feel free to contact us at any time should you have any questions about the location of your belongings or assistance post your relocation!

Exclusive Member Discounts
Thanks to our vast connections in the shipping and moving industry, we are able to offer special and discounted pricing from our top movers for all domestic relocations booked on our website for all our members. Ask our support team for special seasonal discounts at booking.

No more stress about where your belongings are! Our intelligent tracking software lets you track your parcels from start to finish. You can view your mover online, get status updates on your phone, and have your moving advisor update you with regular calls.
Your trusted logistics partner for hassle-free door-to-door shipping and moving services.
I've used SFL Worldwide for the past few years and I've been very happy with their service. They are always on time, their prices are reasonable, and their customer service is excellent. I would highly recommend them to anyone who needs a reliable courier service. Here are some specific examples of why I'm so happy with SFL Worldwide They have always been on time with my deliveries. I've never had to wait longer than expected for my package to arrive. Their prices are very reasonable. I've found that they are often cheaper than other courier services. Their customer service is excellent. I've had to contact them a few times with questions or concerns, and they have always been very helpful and responsive. Overall, I'm very happy with SFL Worldwide. They are a reliable, affordable, and customer-oriented courier service. I would highly recommend them to anyone who needs a courier service.
Mahesh Darshan
2023-05-20
Very supportive and patient. Documents reached on time. I would recommend their services to everyone. Thanks Mr, Punit for your guidance.
Best service with best rates
Chandramouli Potnuru
2023-05-11
SFL is Rocking!!! I had a urgent need to ship some legal documents to California from Texas, I have immediately called Punit from SFL as usual he has done his magic. The service is really superb and highly recommended.
Great service for my documents shipping from Hyderabad to USA. Reasonable rates and great customer service. I will recommend their services.