Your Trusted Partner in Employee Relocation
Are you planning to relocate overseas for work? Do you need a reliable international employee relocation company to help you with your move? SFL Worldwide is here to guide you at every step for a hassle-free experience.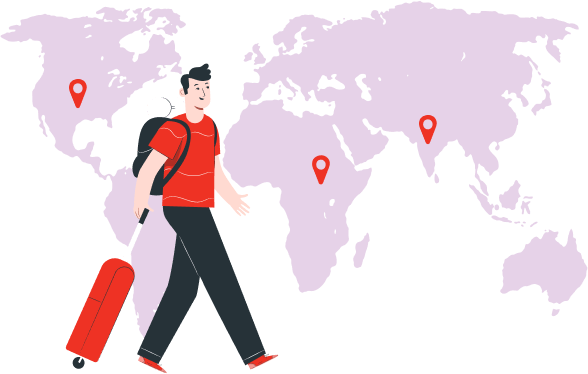 Get Quote and Save UPTO 70% on your next shipping

Please select from country

Please select to country
Employee International Relocation Process
Experience seamless and reliable relocation services for your employees. Avoid last-minute confusion and chaos with SFL Worldwide's international relocation service with this complete guide with tips, costs, guides, and everything you need for a smooth relocation overseas.
What are the Costs of Employee Relocation?
When companies transfer an employee to a place located more than 50 miles from their current place of residence, they will typically compensate the employee with a relocation package to cover the costs associated with the relocation.
The costs of international employee relocation will cover costs, such as transportation, moving around, lodging, and getting the employee settled in the new location. Therefore, the costs to relocate an employee can vary on a number of factors. Some of them include –
Once all the factors are taken into consideration, the company will dispense an employee relocation package to help support the employee with their relocation. It is important to discuss your concerns beforehand with your employer before deciding on a package that is suitable for you and your family.
Costs Covered in Employee Relocation

All costs associated with packing, storage, and logistics of moving your belongings from point A to point B.

Assistance in finding suitable tenants for your previous residence, selling a house, or breaking your lease.

Securing temporary accommodation in the new location, paying security deposits, and other related fees.

Assistance in identifying and understanding processes for applying to job opportunities for your spouse.

Securing comfortable rentals, and buying a new home, by coordinating and working with realtors.

Identifying and covering miscellaneous expenses incurred for the time being, such as medical and travel.

What are the Different Types of Relocation Packages?
There are different types of relocation packages offered by companies to assist their employees in hassle-free relocation overseas. Some of them include –
This type of relocation package is one that involves the company compensating the employee for expenses incurred in the relocation process on the submission of receipts. In this international relocation package, the company will typically reimburse the transferee after the relocation has been completed.
Third Party Relocation Provider
This is a popular choice exercised by many companies that involves the use of a third party logistics expert to take care of the entire relocation process from packing belongings to finding a new home in the new location. SFL Worldwide has been a corporate relocation provider since 2005 where we assist employees with their entire relocation process from the big move to the minutest details.
This is a type of relocation package that involves paying the employee a lump sum of money to cover costs associated with an international relocation. The transferee becomes responsible for managing the money to pay for his/her expenses incurred in the new location.
Considered the best of relocation packages, the direct billing method involves contractors and third party movers to directly bill the company for the service. There is no stress for the transferee to keep track of expenses and maintain receipts. The coordination for services and billing are all handled by the company at zero cost or effort by the employee.
Overseas/Expatriation Services
This is a type of relocation package that goes beyond moving and accommodation services. Expatriation assistance involves employees moving overseas and therefore, require assistance for everything from procuring the right visa to getting the right documentation done for customs clearance at the final destination.

Relocation Policy and other HR Engagement
When it comes to overseas relocations, it is important to understand your company's relocation policy to ensure you are compensated fairly for the expenses incurred during relocation. Your HR personnel can assist you by providing crucial information about your relocation policies, help you with negotiating international relocation costs, and connect you with international employee relocation companies such as SFL Worldwide to execute a successful international move. For example, any provisions made will have to be approved by the concerned heads including the head of HR.
Check out this sample relocation policy published on workforce.com to give you a rough idea on what your company's relocation agreement may look like.

In the event, a transferee is required to sell their home to move to an overseas location, the employer must compensate for legal fees related to preparing documents related to mortgage, note, deed of trust, or deed. Check with your employee to see if such fees are included in the relocation allowance.
Protect Your Luggage Belongings
Employee relocation processes are much more than just transferring an employee's personal belongings from one location to another. At the end of the day, personal belongings are just one part of the employee relocation services and the company needs to ensure documents, paraphernalia related to the employee's work, and other material safely reach their final destination.
No matter the reason, companies should ensure they protect the belongings related to the employee relocation by working with reputed moving companies who are not only able to provide incredibly low shipping prices but also offer technology that tracks your shipment at every step, insures your items against loss and damage, coordinate throughout the process to ensure all belongings are handed over to the transferee in a timely, professional, and proper manner.
There are many reasons why belongings may not make it on time, such as –
Unforeseen delays related to supply chain, covid-19, etc.

An employee arriving later than expected
Lack of coordination and communication

An employee arriving later than expected
Booking, Pick Up & Loading
Every move is unique depending on your needs, your company's benefits, and more. At SFL Worldwide, we take care of everything you need to get you prepared for your international relocation.

Once your employer approves your international relocation, a booking is made either by your employer on your behalf or you must make the booking yourself right here at SFL Worldwide. Once the booking is made, your moving and relocation advisor will reach out to you to connect with you to finalize a date.

Your moving advisor will take a look at your items and size up your move to understand your requirements further. Once the date is confirmed, the team may offer storage services depending on your personal requirement. If storage has been requested, our professional movers will arrive ahead of the final transportation date to pack your belongings and pick them for storing away until they are ready for loading.

Your advisor gets your documents such as packing list (required for both origin and destination) prepared in the mean time to help you with customs clearance. In this stage, your advisor will walk you through every step of the process and documentation required such as passports, visas, custom-related documents, financial paperwork required for setting up bank accounts, and medical documents for the new location. Once that is done, you are all set for loading on the date fixed at the time of booking.
Arrival, Unloading and Delivery
Once your items have been loaded, they are ready for transportation to the final destination.

Once your items arrive at the destination port, they are cleared for customs by the customs duty officer(s) present in the end destination. All items are checked and your container is cleared for unloading and delivery.

Your moving advisor organizes to have your container ready for unloading. SFL Worldwide coordinates with a trucker to truck your container from the port to your temporary storage/ accommodation as per your request at the time of booking.

Your container gets delivered to your final destination where we help unload and settle you in to your new location.
SFL Worldwide works with leading carriers to deliver high-quality results for your employee relocation.
Yes! Outsourcing your relocation is a great idea as it takes the hassle out of planning and executing your relocation process. Relocating overseas is quite a tiresome ordeal and requires a lot of careful planning and detail.
SFL Worldwide is a logistics provider of professional packing and moving services. Additionally we also provide expert at transition services to help you get settled in your new destination. From coordinating with employers to understand who's doing what in the process to getting you settled and your children back in school, we have you covered.
We offer a wide variety of services to suit the needs of your relocation.
SFL Worldwide is much more than just a logistics company. SFL Worldwide is also an international corporate relocation services provider involved with entire organization relocations. For all your corporate relocation international queries, visit our support page to have one of our shipping advisors help you immediately.
At SFL Worldwide, we go above and beyond in ensuring our relocation services help you get settled completely in your new life at the new location. Besides our moving services, we offer the following to facilitate your relocation overseas –

Finding new temporary or permanent accommodation to suit your needs in the new location abroad.

Spousal Career Counseling
Find suitable employment opportunities for your spouse and help them with job applications overseas.

School Search and Placement
Seeking the right schools for your child's requirements and securing admission to begin their next school year.

Help with setting up new accounts – be it for banking, medical, or even securing your new mobile number.

Welcoming you with an introductory kit of essential things you need to begin your new life in the new country.

Cultural/Language Training
Learning the nuances of the new culture and teaching some basic phrases in their language to get you started.
At SFL Worldwide, we offer all of the above and more to help you and your family get comfortably settled in the new location. Visit our support page to request assistance on employee relocations, or call us at 1-800-691-2335 to learn more.
Your trusted logistics partner for hassle-free door-to-door shipping and moving services.
I've used SFL Worldwide for the past few years and I've been very happy with their service. They are always on time, their prices are reasonable, and their customer service is excellent. I would highly recommend them to anyone who needs a reliable courier service. Here are some specific examples of why I'm so happy with SFL Worldwide They have always been on time with my deliveries. I've never had to wait longer than expected for my package to arrive. Their prices are very reasonable. I've found that they are often cheaper than other courier services. Their customer service is excellent. I've had to contact them a few times with questions or concerns, and they have always been very helpful and responsive. Overall, I'm very happy with SFL Worldwide. They are a reliable, affordable, and customer-oriented courier service. I would highly recommend them to anyone who needs a courier service.
Mahesh Darshan
2023-05-20
Very supportive and patient. Documents reached on time. I would recommend their services to everyone. Thanks Mr, Punit for your guidance.
Best service with best rates
Chandramouli Potnuru
2023-05-11
SFL is Rocking!!! I had a urgent need to ship some legal documents to California from Texas, I have immediately called Punit from SFL as usual he has done his magic. The service is really superb and highly recommended.
Great service for my documents shipping from Hyderabad to USA. Reasonable rates and great customer service. I will recommend their services.