Easy Moving & Shipping to Australia with SFL
Save up to 70% on all shipping to Australia. Whether you ship documents or move to Australia, SFL is your trusted partner for all your shipping & moving needs to Australia.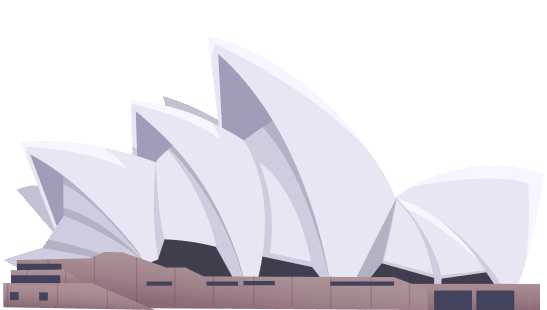 Get Quote and Save UPTO 70% on your next shipping
Please select from country
Shipping to Australia With SFL Worldwide
SFL Worldwide is the world's preferred provider of shipping to Australia services. If you want to enjoy the benefits of working with an established and experienced company for your moving or shipping needs to Australia, then we are the company for you. We feature a comprehensive suite of solutions designed to provide you with maximum flexibility, affordability, and efficiency for your moving or shipping needs.
USA to Australia Shipping Options
Rate
Transit Time
Tracking
Door Pickup
Door Delivery
Delivery Confirmation
Custom Duty
$35.00
2-4 B. Days
Yes
At Additional Cost
Yes
Yes
Included
$55.00
3-5 B. Days
Yes
At Additional Cost
Yes
Yes
Excluded
$145.00
3-5 B. Days
Yes
At Additional Cost
Yes
Yes
Excluded

55% Off
Exclusive Discount
$225.00 $100.00

66% Off
Exclusive Discount
$190.00 $65.00

60% Off
Exclusive Discount
$200.00 $80.00
Logistics Experts since 2005
One thing that you'll discover when you work with SFL Worldwide is that working with us is like having a friend in the industry. We've been helping people just like you with their shipping to Australia for years, and we are well-equipped to help you make your moving or shipping needs to Australia happen.
Sprawling team to help you with any customer support needs you may have

Wide range of services to accommodate any need

Easy process that anyone can navigate
How much does it cost to ship to Australia?
Ship however you like, wherever you like, with SFL Worldwide. We provide you with a shipping gateway to Australia with our worldwide network! We understand that the shipping cost from Australia can be a bit overwhelming and overpriced. However, with SFL Worldwide, enjoy shipping from the United States to Australia relatively cheaply! With more than 60% discount on all major courier services like FedEx, DHL Express, and UPS, ship from New York or Boston to anywhere in Australia! We provide excellent quality service and swift shipping to Australia at a budget-friendly cost! So be it envelopes or any size package, trust this long-distance shipping experience with SFL Worldwide.
Shipping cost from the United States to Australia
Shipping to Australia can be tricky, time-consuming and costly, because of its remote location. However, at SFL Worldwide, we have partnered with renowned companies to reduce shipping costs. Our resources will help customers with customs, hefty paperwork, customs charges, freight, and taxes. So, how much is it to ship to Australia? Cheap and loaded with further discounts! Take a look at them for yourself.

Schedule your shipment on our website www.sflworldwide.com with sender and receipt information along with package and payment details.

Printing shipping labels are very easy at SFL Worldwide. Simply download and print your prepaid label from any regular printer.

You can either drop your package off at the nearest location (FedEx, DHL, and UPS) or arrange for a complimentary pickup at your doorstep.
Shipping boxes from the USA to Australia
So, you have a business, and you must ship a customized box to Melbourne, Australia, within this week. But, what do you do when you want to send a box to Australia? You choose SFL Worldwide and let our services take care of the shipping. Our services are quick, cheap, and of admirable quality. We take all kinds of boxes, big or small, bulky or light. All this while costing you less than the market rate for sure! Our partnership with globally well-known shipping companies like FedEx, and UPS, will connect you to your connections anywhere in Australia. We believe in catering to your needs so that you can focus on your business while we ship your boxes by either air or sea. Therefore, in choosing us, you choose integrity, quality, and swift delivery.
Here For You During Moving or Shipping
If you want to gain a shipping partner that will be here for you from start to finish, then SFL Worldwide is the right choice. We will be there for you from the moment you decide to move or ship your belongings to the moment we deliver your belongings in Australia. We are the teammates that you need to ensure that your move goes well and without complications.
Always available for support when you need it the most

Easy-to-understand moving solutions that you can select from

Comprehensive knowledge base to consult when you need help
Moving Solutions to Australia
Everyone knows that moving can be one of the most stressful events in life, especially if it's a large move. We can help you and your family move with less stress and more efficiency. If you want to execute your move without putting much of a burden on your family, then we are the right partner for you.
Easy and flexible scheduling

Family-friendly moving services

Customer support line to help with your needs
Door-to-Door Full-Service Relocation service

Moving worldwide since 2005

In-house Customs Experts

Customs Duties When Moving to Australia
It is always good to be aware of the applicable customs process of your final destination. Luckily, with SFL Worldwide, you won't have to navigate this process alone. We feature an expansive knowledge base that allows us to guide you on customs duties and makes navigating customs duties in Australia a breeze.

Prohibited Items When Shipping to Australia
Certain items are prohibited when shipping to Australia. Trying to ship these items anyway can lead to shipping delays, additional fees, and confiscated belongings. If you're moving to Australia, consult our complete guide on the prohibited items when shipping to Australia to know what you should leave behind.
Don't Just Take Our Word For It
Nice system, very easy to use. Good followup.
Kaushal Kishore
2022-07-09
I used this service for the first time and extremely pleased. Staff very courteous, very prompt and I got the shipping label pretty soon after completing the details and making payment. Much better choice economically compared to going to the shipping company directly. Would highly recommend for anyone! So happy that I found SflWOrldWide using Google search !
Krunal was most courteous, knowledgeable., efficient and professional. Exceeded expectations.
I am really satisfied with the services provided by SFL. They have provided me all the updates regularly till my package was delivered
Excellent service ! I have submitted the query in website and received timely response. Utkarsh Rana called to follow up and clarify the query. I made the payment online and immediately received the shipping label. The package was delivered as per committed date. Highly recommended!
Best courier service.
SFL is much cheaper and reliable when it comes to international shipping, I have used their service couple of times for sending documents from USA to India.
Excellent service, I send documents to home country at a very reasonable price, Highly recommend them for. customer support is very quick in turnaround. Great experience overall.