Shipping to Mexico from US Affordable options
Get your packages shipped or move your entire family to Mexico with our fast and reliable transit times. SFL Worldwide is your trusted partner for affordable cross-border shipping and moving needs to Mexico!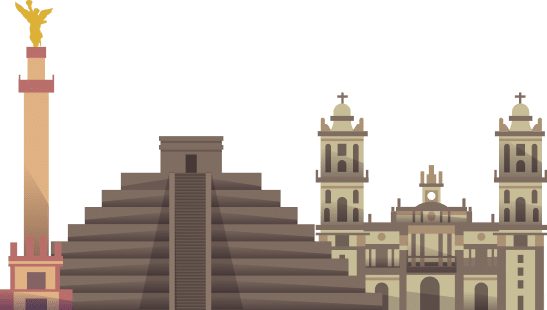 Get Quote and Save UPTO 70% on your next shipping

Please select from country

Please select to country
Shipping to Mexico from US
Are you looking to ship goods from the USA to Mexico? Look no further! SFL Worldwide is your trusted shipping partner for seamless and reliable transportation across the border.
With our expertise in international shipping and commitment to customer satisfaction, we provide a range of services tailored to your shipping needs.
Whether it's personal goods, commercial items, or documents, we ensure secure delivery and hassle-free Mexican customs clearance. Request a quote today and experience the advantages of shipping to Mexico with SFL Worldwide.
How Much Does Shipping to Mexico from the US Cost?
When shipping to Mexico from the USA, various factors impact the costs involved. These factors include package weight, dimensions, shipping method, carrier selection, customs duties and taxes.
Comparing shipping options and carriers can also help find the most cost-effective solution to ship to Mexico.
Rate
Transit Time
Tracking
Door Pickup
Door Delivery
Delivery Confirmation
Custom Duty
$30.00
2-4 B. Days
Yes
At Additional Cost
Yes
Yes
Included
$45.00
3-5 B. Days
Yes
At Additional Cost
Yes
Yes
Excluded
$95.00
3-5 B. Days
Yes
At Additional Cost
Yes
Yes
Excluded

55% Off
DHL Exclusive Discount
$225.00 $100.00

66% Off
FedEx Exclusive Discount
$190.00 $65.00

60% Off
UPS Exclusive Discount
$200.00 $80.00
How to Ship to Mexico From USA
You should take note of the following details:



Determine weight
and dimensions

Include recipient's
full Details

Fill out the customs
declaration form
Fill out the customs declaration form and attach it to the outside of the package.
Ship to Mexico with SFL Worldwide and Save!
Ship to Mexico with your trusted shipping partner, SFL Worldwide. With our expertise and experience in Mexico shipping, we offer reliable and efficient services for shipping to Mexico.
Our team provides secure transportation, customs clearance assistance, and competitive rates to ensure the smooth delivery of your personal goods, commercial items, or documents to Mexico.
An Easier Way to Ship From US to Mexico

Schedule your shipment on our website www.sflworldwide.com with sender and receipt information along with package and payment details.

Printing shipping labels are very easy at SFL Worldwide. Simply download and print your prepaid label from any regular printer.

You can either drop your package off at the nearest location (FedEx, DHL, and UPS) or arrange for a complimentary pickup at your doorstep.
Which Carriers Ship to Mexico?
When shipping from the USA to Mexico, popular shipping options include express services offered by carriers like FedEx, UPS, DHL, and USPS Priority Mail Express. Each shipping provider has its own advantages and considerations in terms of cost, delivery speed, tracking capabilities, and additional services.
Cheapest Shipping Carriers to Mexico from USA
Several shipping choices are available for sending packages from the USA to Mexico. The choice of shipping method depends on factors such as delivery speed, budget, and the type of items being shipped. Some common options include air freight, ocean freight, consolidated shipping, express courier services, and postal services.
It's important to compare prices and services of FedEx, DHL, UPS, and USPS to choose the option that best suits your shipping needs to Mexico.

FedEx offers a range of services for sending packages from the USA to Mexico. One of its services includes FedEx International Priority, which provides fast and reliable delivery within 1-3 business days.

DHL is another popular choice for Mexico shipping. Their services include DHL Express Worldwide, which guarantees fast delivery within 1-3 business days. DHL offers real-time tracking, customs expertise, and options for door-to-door or airport-to-airport delivery.

UPS offers various shipping services to Mexico. UPS Worldwide Express offers expedited delivery within 1-3 business days, while UPS Worldwide Saver provides a more economical option with slightly longer transit times.

The United States Postal Service (USPS) offers multiple ways to ship to Mexico from the USA. First-Class Package International Service is the cheapest option available with a delayed delivery time of 2 to 4 weeks.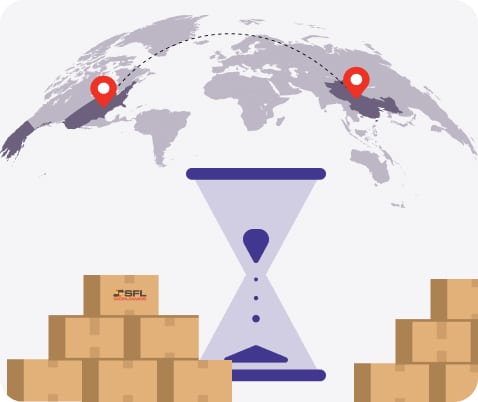 How long does it take to ship to Mexico?
The shipping time from the USA to Mexico can vary based on factors such as the chosen shipping method, distance between the origin and destination, customs clearance processes, and any unforeseen delays. It's important to account for these factors when planning shipments to Mexico.
Express or expedited services like FedEx Express, DHL Express, or UPS Express typically offer estimated delivery times of 1-3 business days, prioritizing faster delivery and streamlined customs clearance. For larger shipments or commercial goods sent via air freight, the shipping time can range from 2-7 business days, considering specific logistics arrangements and customs clearance procedures.
Handling Times, Customs, and Other Delays While Shipping to Mexico
By being aware of these factors and preparing accordingly, you can minimize handling times, navigate the customs process smoothly, and mitigate potential delays when shipping to Mexico.
Shipping carriers generally require a certain amount of time to process and prepare shipments before they are ready for transit. This involves tasks such as sorting packages, applying labels, and verifying documentation. The specific duration of handling times can vary depending on the chosen carrier and the level of service selected.
Familiarize yourself with the import duties and taxes applicable to your shipment. These charges are assessed by Mexican customs based on the declared value of the goods. Delayed or incomplete payment of duties and taxes can result in shipment holds or extended clearance times.
Custom and Regulatory Compliance
Ensure that your shipment complies with the specific regulations and restrictions imposed by Mexican customs. Certain products may require special permits or certifications. Failure to meet these requirements can lead to delays or even the refusal of entry into Mexico.
Country Holidays and Peak Seasons
When planning shipments to Mexico, it is crucial to take into account local holidays and peak seasons. These periods experience a significant increase in demand for customs clearance and transportation services, which can potentially lead to delays in the shipping process.
Consider the logistics of shipping to Mexico, including the distance, transportation mode, and any potential delays in transit. Factors such as road conditions, weather events, or logistical challenges at border crossings can impact the overall shipping timeline.
Communication and Tracking
Maintain open communication with your shipping carrier or logistics provider to stay informed about the status of your shipment. Utilize tracking tools and systems offered by the carrier to monitor the progress of your package and address any potential delays proactively.
Items that can and can't be shipped to Mexico
Restrictions and Prohibited Items While Shipping to Mexico
When shipping items to Mexico, it's important to be aware of the prohibited and restricted items that cannot be transported due to legal or safety reasons. Some common prohibited items based on shipping restrictions include:
Firearms and Ammunition

Illegal Drugs and Narcotics

Hazardous Materials

Live Animals

Counterfeit Goods

General Rules while Shipping to Mexico
When shipping to Mexico, it is crucial to adhere to certain general rules to facilitate a seamless process. Firstly, accurate and complete documentation is essential. Prepare a commercial invoice, packing list, and any necessary permits or certificates specific to the goods being shipped. Ensure that the information provided matches the contents of the shipment to avoid any customs discrepancies or delays.
Secondly, comply with Mexican customs regulations and restrictions. Familiarize yourself with the prohibited items list to ensure that the goods you are shipping are allowed into the country. Certain items such as firearms, certain foods, plants, and medications may be restricted. By understanding and adhering to these regulations, you can prevent issues during customs clearance.
Advantages of Shipping to Mexico with SFL Worldwide
The advantages of shipping with SFL Worldwide are:

Expertise in International Shipping
SFL Worldwide has extensive experience in shipping to Mexico and understands the intricacies of international logistics. Their expertise ensures smooth customs clearance, adherence to regulations, and efficient transportation of your shipments.

SFL Worldwide offers a comprehensive range of shipping services to meet your specific needs. Whether you require express shipping, freight forwarding, or specialized handling for delicate or oversized items, they have you covered.

SFL Worldwide provides competitive pricing options for shipping to Mexico. They offer transparent and affordable rates, allowing you to save on shipping costs without compromising on the quality of service.

Secure and Reliable Transportation
With SFL Worldwide, you can trust that your shipments will be handled with utmost care and delivered securely to Mexico. They prioritize the safety and security of your goods, ensuring they arrive at their destination in optimal condition.

Dedicated Customer Service
SFL Worldwide is committed to providing excellent customer service. Their knowledgeable and friendly staff are available to assist you throughout the shipping process, addressing any queries or concerns promptly and professionally.

SFL Worldwide offers advanced tracking and monitoring capabilities for your shipments. You can stay updated on the status of your packages in real time, providing peace of mind and enabling you to plan accordingly.
Working With SFL Worldwide

Work With Shipping and Fulfillment Experts
To ensure a smooth and hassle-free shipment experience, it's important to work with experts who are familiar with the regulations and customs processes in Mexico. Our experts help individuals and businesses simplify international shipping.

Request Fulfillment Pricing
Before you start shipping, select an option and fulfilment company. It's important to request pricing information and compare rates to find the most cost-effective option. You can get accurate information by requesting a quote.
Frequently Asked Questions on Shipping to Mexico
Looking to Ship to Other Countries? Explore Here!
Your trusted logistics partner for hassle-free door-to-door shipping and moving services.
I've used SFL Worldwide for the past few years and I've been very happy with their service. They are always on time, their prices are reasonable, and their customer service is excellent. I would highly recommend them to anyone who needs a reliable courier service. Here are some specific examples of why I'm so happy with SFL Worldwide They have always been on time with my deliveries. I've never had to wait longer than expected for my package to arrive. Their prices are very reasonable. I've found that they are often cheaper than other courier services. Their customer service is excellent. I've had to contact them a few times with questions or concerns, and they have always been very helpful and responsive. Overall, I'm very happy with SFL Worldwide. They are a reliable, affordable, and customer-oriented courier service. I would highly recommend them to anyone who needs a courier service.
Mahesh Darshan
2023-05-20
Very supportive and patient. Documents reached on time. I would recommend their services to everyone. Thanks Mr, Punit for your guidance.
Best service with best rates
Chandramouli Potnuru
2023-05-11
SFL is Rocking!!! I had a urgent need to ship some legal documents to California from Texas, I have immediately called Punit from SFL as usual he has done his magic. The service is really superb and highly recommended.
Great service for my documents shipping from Hyderabad to USA. Reasonable rates and great customer service. I will recommend their services.