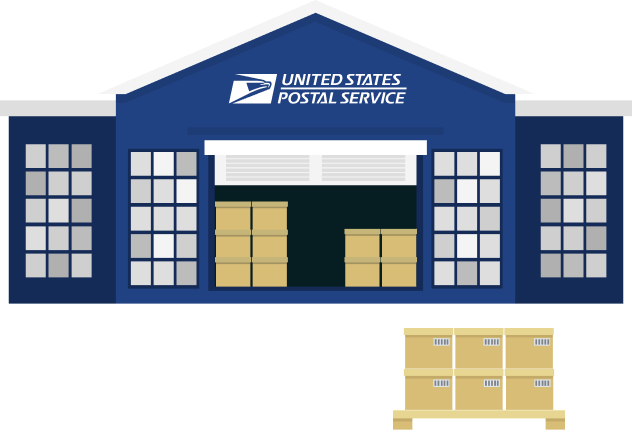 Get Quote and Save UPTO 70% on your next shipping

Please select from country

Please select to country
The USPS or United States Postal Service continues to be one of America's trusted postal services for millions across the country. This legendary postal service has paved the way for dozens of other institutions and infrastructural facilities across the United States, including roadways and railway systems spread across the nation. From delivering your family's first newspaper to the bonus check in your mail, USPS has been there at every milestone!
Gain instant access to exclusive shipping discounts of up to 70% when you opt for USPS shipping through SFL Worldwide. Boost your revenue, reach world markets, and grow your sales with consistent shipping and professional management for international and domestic shipments.
Every booking made on SFL Worldwide is processed under the guidance of advisors who understand the nuances of the shipping industry and help you prepare the documentation you require for an easy, hassle-free customs clearance process. Track your packages in real-time and experience seamless shipment deliveries every time you ship with SFL Worldwide.
We ship to over 220+ countries worldwide and offer dedicated insights and resources for each country. Every customer gets access to professional guidance from our shipping advisors, and documentation processing on all USPS shipping booked through SFL Worldwide.
What are the USPS benefits?
USPS has long been known for its consistent deliveries and cost-effective pricing that customers, especially business owners, love. Being one of the largest postal services in the country comes with its own set of benefits.
Choose from a wide variety of mailing services to suit your shipping needs, such as –
USPS Priority Mail
USPS Media
USPS Parcel Select,
USPS Priority Mail Express.
You can now stop spending hours of your precious time on search engines looking up terms such as "US Postal Service near me" and "Postal services near me." All you have to do is head to our website sflworldwide.com and tell us where and what you want to ship. Our quote generator gets you the right rates for your budget from providers, including USPS Shipping, directly on our website. With SFL Worldwide, you are guaranteed these excellent benefits on all shipments made on our website-
No hidden fees or surcharges
No minimum volume requirements for shipping to domestic and international locations
Package tracking and delivery alerts
Instant comparison of rates between couriers
Trusted and Reliable Worldwide Shipping with SFL Worldwide
When we first began SFL Worldwide, we noticed that people spent a considerable amount of their time shopping around for prices and experiencing multiple delays just to ship a simple package because they didn't have access to the right information or the right support. Shipping doesn't have to be this complicated, and this thought pushed us to create our logistics company SFL Worldwide.
Finding quotes, comparing providers, and getting real-time estimates are now available in seconds. It's that simple! With SFL Worldwide, you can –
Generate Quotes and Compare Providers in a matter of seconds
Manage Shipments for consistent deliveries every time
Specific USPS Calculation to determine taxes and duties that may be incurred
Package Tracking and delivery notifications
Shipping Advisors for on-time customs clearance and documentation guidance
Customer Support for every question, feedback, or recommendation
Competitive USPS Shipping Rates
USPS is a highly sought-after courier known for its competitive shipping rates in the United States and overseas. Many factors influence shipping rates from package size to delivery date required.
Did you know that there are nearly 31,247 postal locations for USPS in the United States? This means organic searches such as "USPS near me" or "USPS Shipping near me" will likely take hours to find the nearest post office with the right prices. This manual process is highly time-consuming and is not an efficient way to ship.
This is why SFL Worldwide has developed smart, intuitive tools and technology to get all your couriers – USPS, DHL, FedEx, or UPS processed under one roof. You can use our exclusive USPS shipping calculator to find the best package for your need.
Various USPS shipping options available via SFL Worldwide
Priority Mail Express: Delivery by next business day or 2-day guarantee by 6 pm
Priority Mail: Delivery 1-3 business days
First-Class Mail: 1-5 business days; small packages 2-5 business days
Media Mail: 2-8 business days; suitable for sending educative material and media such as books, music, and all computer-readable media
USPS Retail Ground: 2-8 business days; less-than-urgent, oversized packages

For International Shipments
Global Express Guaranteed (GXG®): 1-3 business days; fastest service
Priority Mail Express International®: 3-5 business days; date-certain delivery
Priority Mail International®: 6-10 business days; suitable for budget shipping
First-Class Package International Service®: Varies by destination; suitable for budget shipping
First-Class Mail International®: Varies by destination; best for documents and printed material
USPS has an outstanding record in the United States for its consistent and timely deliveries. Typical delivery times for USPS Shipping vary between 8 am and 5 pm. External factors such as weather and local conditions could impact your delivery dates. They could also vary depending on the delivery route assigned to the mailman.
Please refer to the Shipping Services section of this page for detailed information on the delivery times of each service.
Compare USPS to other shipping services.
Regardless of their similarities, every shipping carrier has unique benefits to offer its customers. Here is a quick comparison of USPS to other shipping service providers such as UPS, DHL, and FedEx.
Shipping Service
USPS
UPS
FedEx
DHL
Prices
Starting at $8.50 for USPS Retail Ground
Starting at $9.45 for flat rate small box
Starting at $10.80 for flat rate envelope
Scheduled Pickup
Yes
Yes
Yes
Yes
Package Tracking
Yes
Yes
Yes
Yes
Insurance
$50 - Priority Mail; $100 - Priority Mail Express; additional coverage for higher value items
Yes, on packages up to $100. Additional coverage may be purchased.
Yes, on packages up to $100. Additional coverage may be purchased.
Yes, up to $100 value. Additional coverage may be purchased.
SFL Worldwide Rate calculator for USPS
Learn more about SFL Worldwide's tools and resources on our website

Shipping with USPS - FAQs
Your trusted logistics partner for hassle-free door-to-door shipping and moving services.
I've used SFL Worldwide for the past few years and I've been very happy with their service. They are always on time, their prices are reasonable, and their customer service is excellent. I would highly recommend them to anyone who needs a reliable courier service. Here are some specific examples of why I'm so happy with SFL Worldwide They have always been on time with my deliveries. I've never had to wait longer than expected for my package to arrive. Their prices are very reasonable. I've found that they are often cheaper than other courier services. Their customer service is excellent. I've had to contact them a few times with questions or concerns, and they have always been very helpful and responsive. Overall, I'm very happy with SFL Worldwide. They are a reliable, affordable, and customer-oriented courier service. I would highly recommend them to anyone who needs a courier service.
Mahesh Darshan
2023-05-20
Very supportive and patient. Documents reached on time. I would recommend their services to everyone. Thanks Mr, Punit for your guidance.
Best service with best rates
Chandramouli Potnuru
2023-05-11
SFL is Rocking!!! I had a urgent need to ship some legal documents to California from Texas, I have immediately called Punit from SFL as usual he has done his magic. The service is really superb and highly recommended.
Great service for my documents shipping from Hyderabad to USA. Reasonable rates and great customer service. I will recommend their services.