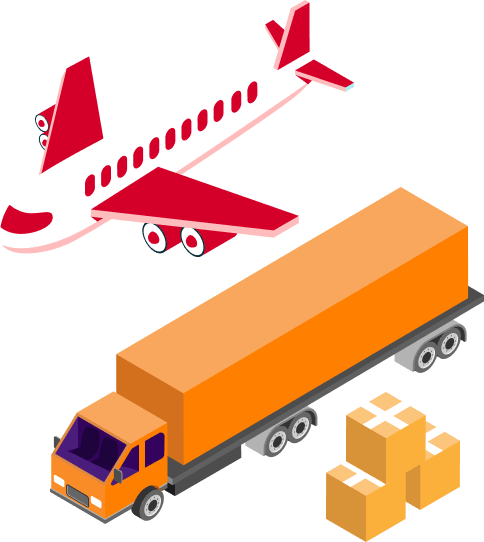 Get Quote and Save UPTO 70% on your next shipping

Please select from country

Please select to country
When it comes to eCommerce, DHL has some of the most economical rates for high-volume shippers. Find low, pre-negotiated rates on all DHL Shipping, including DHL eCommerce Solutions at SFL Worldwide. You can now automate, compare quotes and services, and schedule your shipments with the consistency and precision your customers love.
Every shipment booked on SFL Worldwide is made under the guidance of our skilled shipping advisors, who ensure your packages are shipped with great care to their end destination. Experience seamless shipping solutions for calculating tax and duties, exclusive discounts, and improved transit times with our package tracking technology on your next DHL eCommerce shipment through SFL Worldwide.
Read this comprehensive guide to learn everything you need to know about DHL Shipping. This guide will show you how to find the right DHL eCommerce Solution for your shipments using our smart quote generators and ship your DHL packages at discounted rates through SFL Worldwide.
We have the right DHL shipping package for every kind of shipment you book.
What is DHL eCommerce Shipping?
DHL is a highly sought-after German shipping carrier that offers logistics solutions for individuals and businesses shipping in high volumes to domestic and international locations through DHL eCommerce Shipping.
Thanks to a vast expanse of distribution centers and reliable delivery records, DHL eCommerce solutions enable our customers to receive timely and consistent shipping to over 220 countries worldwide and most locations in the United States and Europe.
SFL Worldwide has been a reliable logistics provider for DHL shipments since 2005, providing some of the lowest DHL eCommerce Shipping prices that suit your budget and timeframe. Keep your budgets in check with massive discounts of nearly 70% on every DHL Shipping with SFL Worldwide.
DHL eCommerce Shipping Services and their benefits
Booking your DHL Shipping is now easier than ever on SFL Worldwide. One of the biggest advantages of shopping for DHL eCommerce Shipping services on SFL Worldwide is the instant access to our specially discounted rates and comparison of various services to help you choose the one that works best for your shipping need. Some of the services offered on DHL eCommerce Solutions are –
Reach visibility with your customers by finding the best courier service offering these added benefits for streamlined shipping and customer satisfaction. Our customers enjoy the umbrella of exclusive benefits offered by SFL Worldwide on DHL eCommerce Shipping.
No hidden charges or fees
No minimum shipping volume requirements
24/7 Worldwide Tracking and delivery alerts
Global coverage with domestic and international delivery services
'Ship Smart Program' by SFL Worldwide - For our Frequent Shippers
At SFL Worldwide, we understand how critical shipping is in delivering excellence to your customers. Unlock your eCommerce business's potential with 'Ship Smart,' a unique program offered by SFL Worldwide for our frequent shippers. 'Ship Smart' offers heavily discounted pricing for frequent shipments and useful tools that provide flexibility in scheduling and automating shipments.
Search and Select Courier services and their rates, and draw comparisons between them in seconds
"Ship Smart" program – For our shippers that require frequent scheduling of shipments and automation for choosing the lowest price.
Online Calculators Cut shipping times with instant calculators for determining dimensional weight and CFT ahead of shipment.
Global Tracking Know where your packages are in real-time with the help of our global tracking technology.
Shipping Advisors Get guidance from shipping experts who help calculate taxes and duties, prepare documentation required for customs clearance, and ensure your packages are shipped securely to their final destination without delays.
Customer support to answer your questions and gather feedback at any point in the shipping process.
DHL eCommerce Shipping Prices
There are many factors that influence shipping prices sent via any carrier – from the package size to the level of service assigned for delivery. Thanks to our volume-based shipping model, SFL Worldwide offers our customers pre-negotiated discounted rates for our business customers who ship frequently.
Our online calculators help determine your lowest rates based on your budget and time frame.
SFL Worldwide Rate Calculator For DHL
Learn more about SFL Worldwide's tools and resources on our website.
Compare DHL eCommerce Shipping To Other Services
DHL eCommerce Solutions are available to most domestic locations within the US and over 220 international locations worldwide. We simplify your experience by letting you choose solutions from DHL eCommerce Shipping curated specially for our high-volume shippers.
For International Shipments
Shipping Service
Transit Times
Additional Info.
Tracking
DHL Parcel International Direct
3-10 business days
Customs clearance options – Delivery Duty Paid (DDU) and Taxes paid in advance or upon delivery
Shipments value up to $100/package
Yes
DHL Parcel International Standard
Europe and Canada – 4-8 business days
Rest of the World – 8-14 business days
DDU ( Delivered Duty Unpaid), now DAP (Delivered at Place) and Taxes paid upon delivery
Shipments value up to $100/package
Yes
DHL Packet International
4-8 business days
DDU (Delivered Duty Unpaid), now DAP (Delivered at Place), Taxes paid upon delivery
Shipments up to $100 / per Bill Of Lading
Yes
Shipping Service
Features
Additional Info.
Tracking Visibility
DHL SmartMail Parcel and Parcel Plus
Expedited Max: 2-3 days
Expedited: 2-5 days
Ground: 3-8 days
DHL Smartmail Parcel: Maximum Weight 16 oz.
DHL Smartmail Parcel Plus: 1-25 lbs.
Yes
DHL SmartMail Flats
Ground: 3-8 days
Max Weight: 16 oz
Yes
DHL SmartMail Bound Printed Matter
Expedit: 2-5 days
Ground: 3-8 days
Weight: 1- 15 lbs
Yes
DHL SmartMail Parcel Return
Light: 2-4 days for packages up to 16oz
Plus: 1-4 days for packages up to 70 lbs
Ground: 3-8 days for packages up to 70 lbs
Weight: 16oz to 70 lbs
Yes
DHL eCommerce is known for its seamless processing and extensive network of distribution centers that helps provide our customers with on-point deliveries at SFL Worldwide. Stay informed about the whereabouts of your shipment from the moment it leaves your hands till it gets delivered to its final destination.
DHL eCommerce shipments are delivered anywhere from 2 to 20 business days depending on the nature of the shipment, start and end destination, and the level of service opted for. In some services, the shipments may be handed over to the local post office for the final leg of the delivery.
The DHL eCommerce Shipping Services section of this page has detailed information on each service's estimated delivery times for your reference.
FAQs - Shipping with DHL eCommerce
Your trusted logistics partner for hassle-free door-to-door shipping and moving services.
I've used SFL Worldwide for the past few years and I've been very happy with their service. They are always on time, their prices are reasonable, and their customer service is excellent. I would highly recommend them to anyone who needs a reliable courier service. Here are some specific examples of why I'm so happy with SFL Worldwide They have always been on time with my deliveries. I've never had to wait longer than expected for my package to arrive. Their prices are very reasonable. I've found that they are often cheaper than other courier services. Their customer service is excellent. I've had to contact them a few times with questions or concerns, and they have always been very helpful and responsive. Overall, I'm very happy with SFL Worldwide. They are a reliable, affordable, and customer-oriented courier service. I would highly recommend them to anyone who needs a courier service.
Mahesh Darshan
2023-05-20
Very supportive and patient. Documents reached on time. I would recommend their services to everyone. Thanks Mr, Punit for your guidance.
Best service with best rates
Chandramouli Potnuru
2023-05-11
SFL is Rocking!!! I had a urgent need to ship some legal documents to California from Texas, I have immediately called Punit from SFL as usual he has done his magic. The service is really superb and highly recommended.
Great service for my documents shipping from Hyderabad to USA. Reasonable rates and great customer service. I will recommend their services.