The exponential surge in India's coronavirus infections over the past few weeks has swamped the Indian health care system. India has been seeing a lack of life-saving medical equipment like oxygen concentrators in recent times. The Indian Government has been aiding its citizens at the best capacity with all covid supplies. However, the number of cases is growing rapidly.
We at SFL worldwide are putting all our efforts to help India recover from this pandemic by shipping oxygen concentrators from the USA to India.
In this blog, we will guide our readers on how can they ship oxygen concentrators to India from USA. With the excessive demands on the requirements for oxygen concentrators in India, the Indian government has eased customs regulations to allow other countries in donating to its cause. This blog post will give you detailed steps on how to ship oxygen concentrators to India from USA.
A start-to-finish process on how to ship oxygen concentrators to India from USA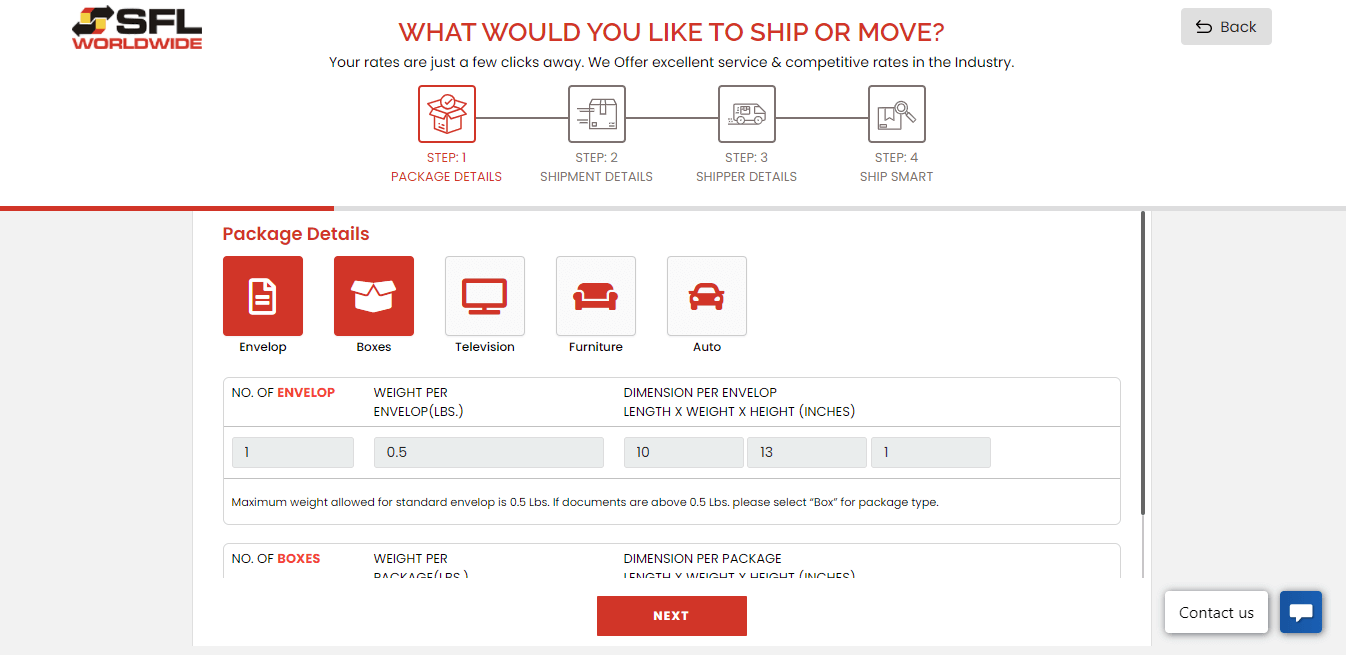 Once you have the shipping box weight and dimensions ready, you can log on to www.sflworldwide.com and get real-time shipping price quotes from various carriers (FedEx, UPS, and DHL) along with their transit time.
It is mandatory to have the box dimensions to get an accurate shipping rate quote as the chargeable weight of a shipment is higher than the actual weight or dimensional weight. For example, if the actual weight of your box is 35 Lbs. and dimensional weight is 50 Lbs, you will be charged for the one that is higher than the two, which, in this case, is 50 Lbs. Click here to learn more about chargeable weight.
Step 2: Schedule your shipment on SFLWorldwide.com
When you are ready to ship, you will have to schedule your shipment on www.sflworldwide.com. To schedule your shipment, you will need the sender and receiver information along with the package and payment details. Please make sure the receiver's name and address match KYC (Know-Your-Customer) documentation required for customs clearance.

Once you complete the scheduled shipment process, you will receive a prepaid shipping label along with a commercial invoice in your email. You would now have to print these documents from a regular printer and drop off your shipment at the nearest FedEx location. If required, we can also arrange for door pickup at additional pickup charges.
You will see a charge on the method of payment as provided by you at the time of booking your shipment. Once the shipment is received by the carrier, we charge according to corrections in the weight or/and dimensions.
Step 3: Customs Clearance in India
Once the shipment arrives in India, FedEx will contact the recipient via phone or email requesting to upload their KYC documents to the FedEx KYC website. For the KYC form, the recipient will have to provide a copy of two types of Government IDs like the Aadhaar Card, Passport, Voter ID, or PAN Card. Please make sure the receiver's information like the name and address provided while scheduling the shipment matches the KYC document.

Due to the covid pandemic, the customs duty charge is exempt for oxygen concentrators until July 31st, 2021. Integrated goods and services tax (IGST) is applicable at 12% of the value and must be paid by the receiver in India for quick process and delivery. Depending on Local FedEx requirements, IGST charges can be paid online or in cash to FedEx at the time of delivery.
Step 4: Door Delivery at Destination
Once a shipment is cleared by customs and IGST charges are ascertained and paid by the receiver, FedEx will deliver the shipment to your doorstep.

All FedEx service (FedEx international economy or FedEx international priority) comes with a standard door delivery service. In the event FedEx is unable to deliver depending on local conditions such as lockdown regulations and containment zones, FedEx may require the receiver to pick up the shipment from the local FedEx office.
FedEx KYC Documentation Process
KYC means "Know Your Customer". It is a process by which FedEx obtains a customer's identity and address information. This process helps to ensure that the shipment is delivered to the assigned receiver at the time of booking the shipment. The KYC procedure is to be completed by the banks while opening accounts and also periodically update the same.
Below are quick steps to upload your KYC documents online on the FedEx KYC website.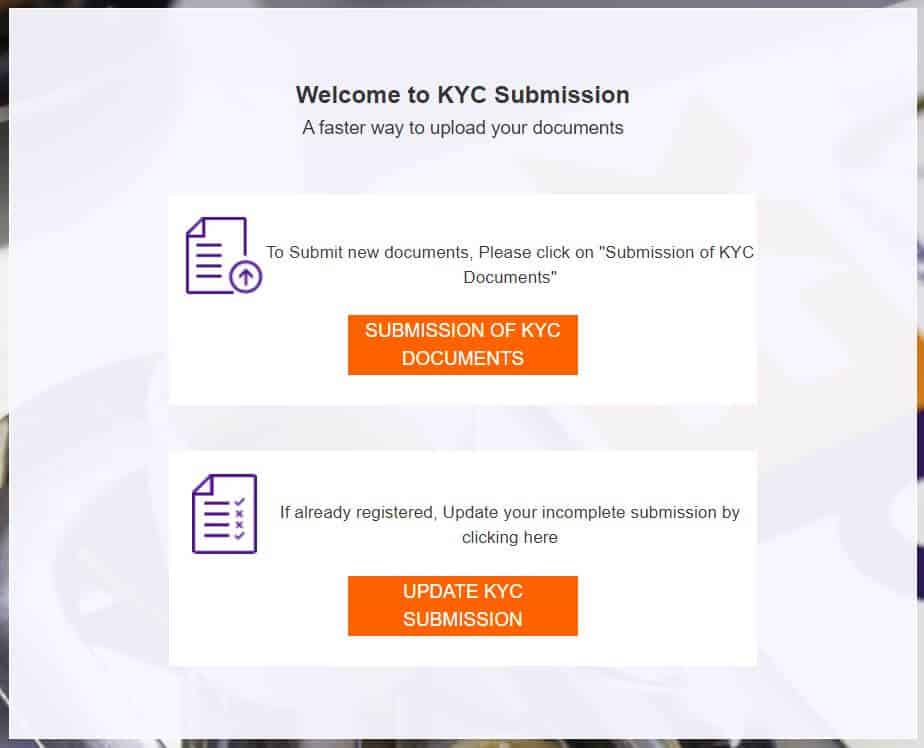 Step 1: Start KYC Submitting Process
To submit a new document, please click on the "Submission of KYC Documents" button.

It is very important that the address mentioned on the KYC document should be the same as that of the delivery address that is declared while scheduling the shipment.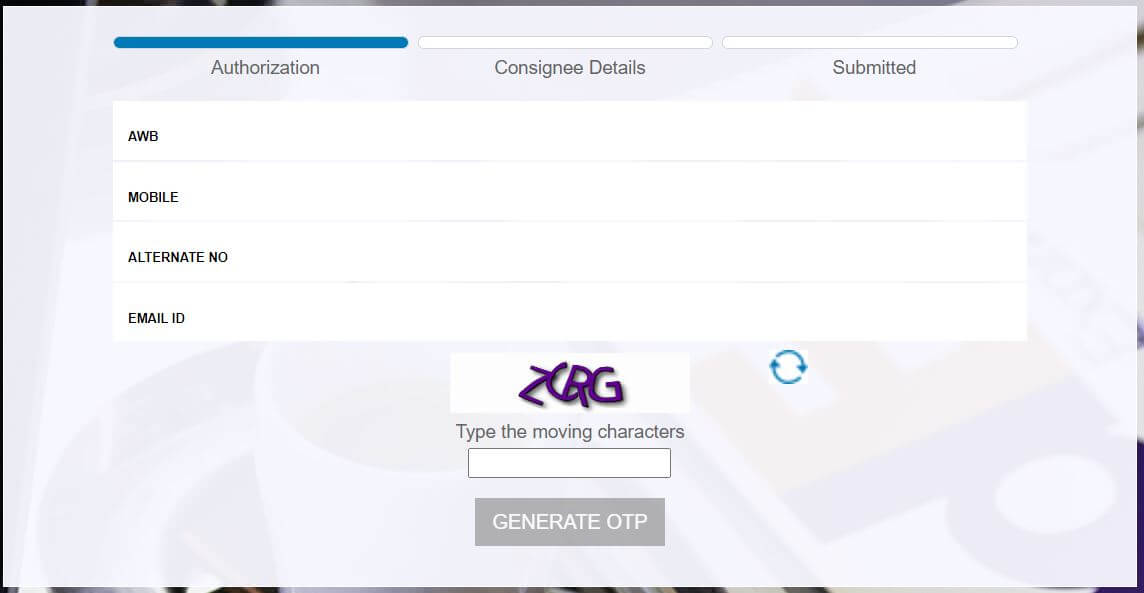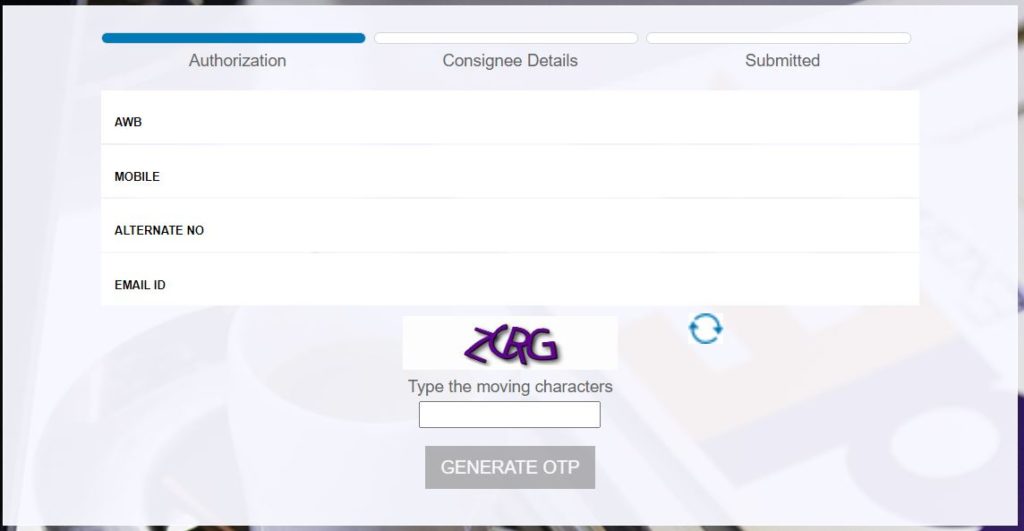 Step 2: Initiation of KYC Submission
To initiate and upload the KYC process, the receiver has to put in the below details on the Authorization tab and then click on the "Generate OTP" button
FedEx Airway bill, Mobile number, Alternate number, Email id, and Captcha code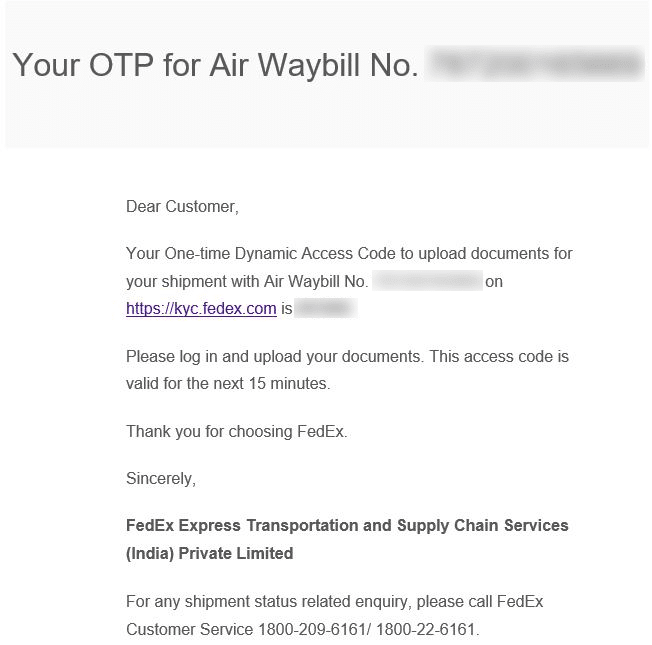 You will receive an OTP code at your email address, which will be required to authenticate your KYC Process. You will have to enter the OTP code received in your email on to the KYC web portal to proceed to the next step.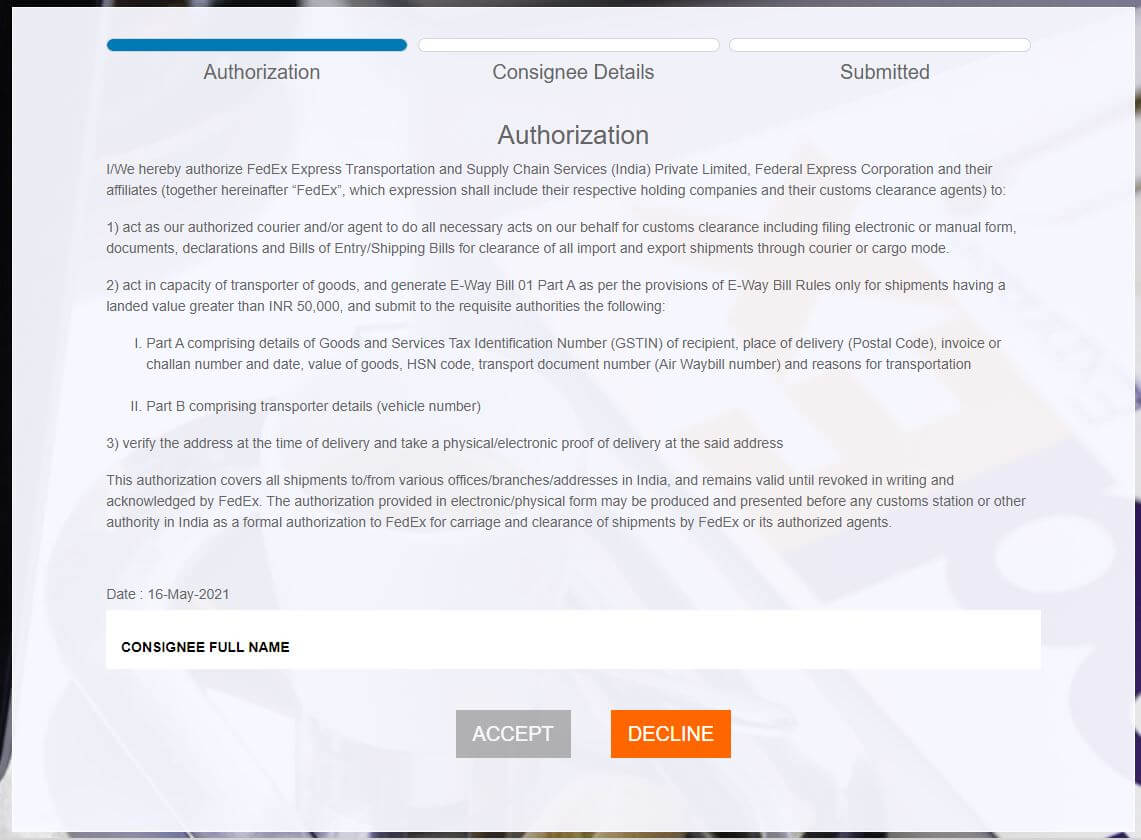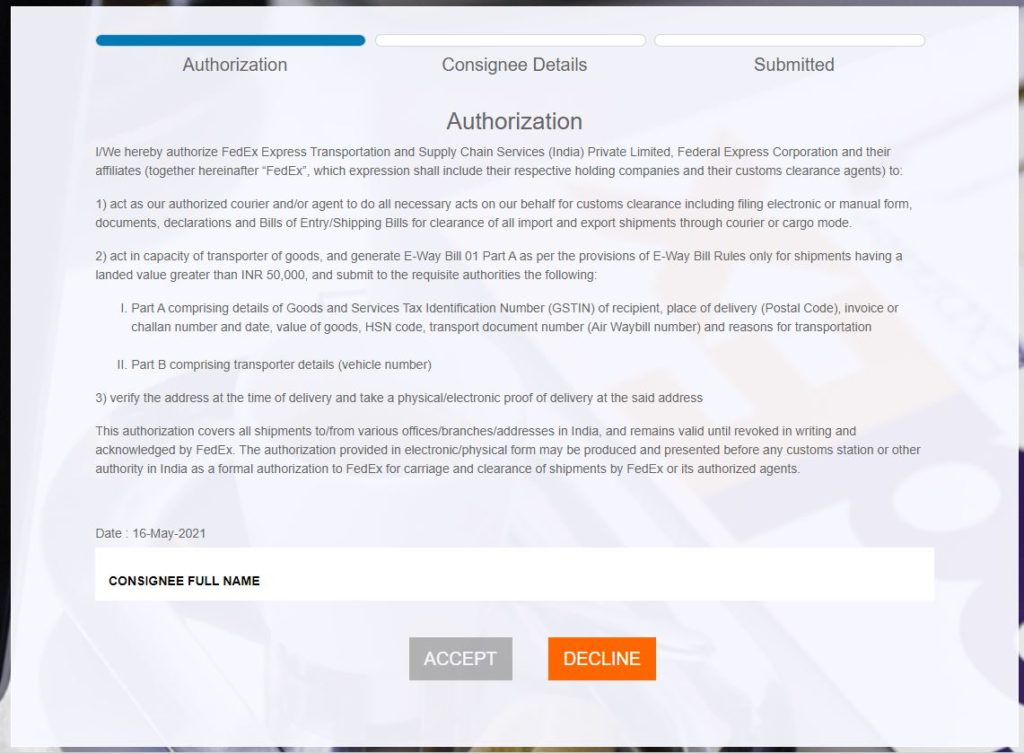 Step 4: Complete KYC Step by Step Wizard
Follow the step-by-step process and complete the KYC upload process from Authorization to submission process.

In the Consignee Details tab for "Importer Exporter/Exemption Code" – if your shipment is for personal, select exemption code of "0100000053" which is for Persons /Institutions /Hospitals importing or exporting goods for personal use, not connected with trade or manufacture or agriculture.
After KYC approval, the package will be moved for customs clearance and examination. Once the shipment is cleared by the Indian customs and the IGST charges are ascertained and paid by the receiver, FedEx will deliver the shipment to your door.

This blog is purely for informational purposes and the laws mentioned are subject to change without due notice, owing to changing import/export guidelines of every country. If you need further information on this topic, please contact our office at 1-800-691-2235.
SFL Worldwide has been a Logistics service provider specializing in domestic and international shipping and moving services since 2005. We offer door-to-door shipping and moving services with real-time tracking & insurance. We specialize in residential and commercial relocation and offer a truly hassle-free experience.