As industry experts, delivering your belongings to your doorstep without damage is our primary goal. Appropriate packaging is an essential requirement. In the event, items are not correctly packed, they are prone to damage. This reduces customer satisfaction, which is the key element for us. Packaging of any cargo is done based on its size, quantity, and type of product being shipped. With all the hassle that our shipment goes through, good packaging will hold it tight and damage-free. When the goods are dispatched, they go through the process of loading and unloading many times, and thus it is mandatory to pack the cargo effectively.
Single box packaging method
Goods excluding fragile products can be packed for shipping in a single box. Newspapers and extra fillers have to be used to keep the item upright. If packaged items are prone to leakage or spillage, pack them inside an additional plastic bag.
Tips for single box packaging method:
Boxes available at home can be reused, checking their stability and weight holding capacity.
Double packaging is advisable as it supports the items and keeps them still. You can give double protection to your items using bubble wrap sheets, plastic covers, and papers.
It is advisable to pack small packages in relatively larger boxes
Wrap items with cushioning materials. This helps them to avoid friction and not collide with each other, causing damage.
All the boxes should be marked with the sender and recipient's name and contact number. Labels should be attached to the box in case of any confusion.
In the case of re-usage of boxes, all the old labels should be removed.
All the items should be sufficiently taped with a brown "H-tape" (preferably) to cover all the sharp edges or unusual shapes. Do not use cello tapes or other electric tapes for packing.
Double box packaging method
Double box packaging is a box-in-box method that is ideal when your belongings are fragile and need to be handled with care. This packaging method is also great for holding valuable and emotional items. Below are the best practices and tips to follow for the utmost protection of your belongings while shipping and moving.
Tips for double box packaging method:
It is essential to choose the correct boxes to pack fragile items. No holes or cracks can be permitted.
Fragile and delicate items should be double packed with a double box for better safety. Each fragile item should be packed individually with sufficient cushioning.
Use a small box to pack the item. Wrap it with buddle wrap or a plastic sheet.
It is advisable to place the smaller box at the center of the larger box. The second box should be more solid than the smaller box. Both the boxes should be given cushioning to fill in the empty space with newspapers, bubble wrap, plastic sheets, peanuts, or any other filler.
Label the entire cargo as "FRAGILE." Shippers and movers also help you by providing "Fragile Tapes" to keep you at ease.
All the fragile boxes should be marked with appropriate "Handling symbols." This indicates caution to the shipping department.
Label all the items and boxes correctly with a marker and a sticker. Providing information on the recipient as well helps during a mishap.
Seal the boxes with an "H-TAPE," Edge protectors, or Bracing as per your need, ensuring all the edges are covered. You are good to go.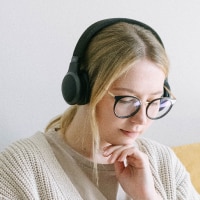 I'm Tammy Waller, a supply chain and logistics specialist with over 10 years of expertise. I've been an author and SFL employee for over 10 years.
As an author, I've been able to teach others. I love guiding users through supply chain and logistics operations.
I have substantial experience managing logistics operations, supply chain management, transportation, inventory management, and warehousing in shipping-moving and logistic services. I've worked on many worldwide logistics and supply chain projects, honing my abilities in negotiating rates, scheduling shipments, and managing vendors.