Frequently Asked Questions to Get Shipping Discounts
Get Quote and Save UPTO 70% on your next shipping

Please select from country

Please select to country
Frequently Asked Questions to Get Shipping Discounts
Being efficient with your budget is an important aspect of running a business. There are many ways businesses can cut costs without affecting the brand image. This is especially true for shipping costs, as they can easily add up, if not planned properly. If you're wondering how to get discounts on shipping, here are some ways to get small business shipping discounts.
How to get discounts on shipping
SFL Worldwide is a leading logistics partner specializing in domestic and international shipping and moving services. Their vast network of connections gets you the top level of service you require at highly discounted rates of up to 70% off. This makes it easy to ship without the worry of breaking your budget.
Find the right shipping partner
Shipping carriers, such as FedEx, DHL, and UPS are efficient in getting your parcels delivered on time. That said, booking directly on their website can become an expensive affair without the right discounts. Working with the right shipping partner not only gets you stellar shipping service but at highly competitive rates. SFL Worldwide has volume-based shipping options that lets you get greater shipping discounts when you ship in larger quantities.
Choose discounted shipping
Another tip to shipping on a budget is to take advantage of discounted shipping rates that are available on shipping companies, such as SFL Worldwide. SFL Worldwide pre-negotiates rates with leading couriers, such as FedEx, DHL, and UPS, to get you the best and lowest rates on the internet.
How to get UPS shipping discounts
Every leading carrier offers discounts to exclusive shipping partners. You can book shipping services through these partners to get access to exclusive shipping discounts. Bookings made on SFL Worldwide will receive discounted rates of up to 70% off. Simply use our instant rate calculator to get your discounted UPS rates. Here are a few UPS discount shipping options available on SFL Worldwide.
How to get FedEx shipping discounts
FedEx is one of our most sought-after shipping partners, preferred by our customers. SFL Worldwide offers exclusive shipping discounts on FedEx bookings made on our website. Use our online rate calculator to get suitable quotes for your budget for exclusive discounts. Enter your package dimensions, location, and weight details for multiple quotes. Here are a few FedEx discount shipping options available on SFL Worldwide.
FedEx International Next Flight
Get Quote and Save UPTO 70% on your next shipping
What are typical shipping discounts
Finding discounted shipping prices online can be a long process. Get shipping discounts for small business within seconds on our website. Whether you're looking for USPS shipping discounts or FedEx shipping discounts, SFL Worldwide will get you quotes for every budget and timeframe in a few clicks! Here is a sample quote for an international 2 lb package shipping from San Jose, USA to Chennai, India.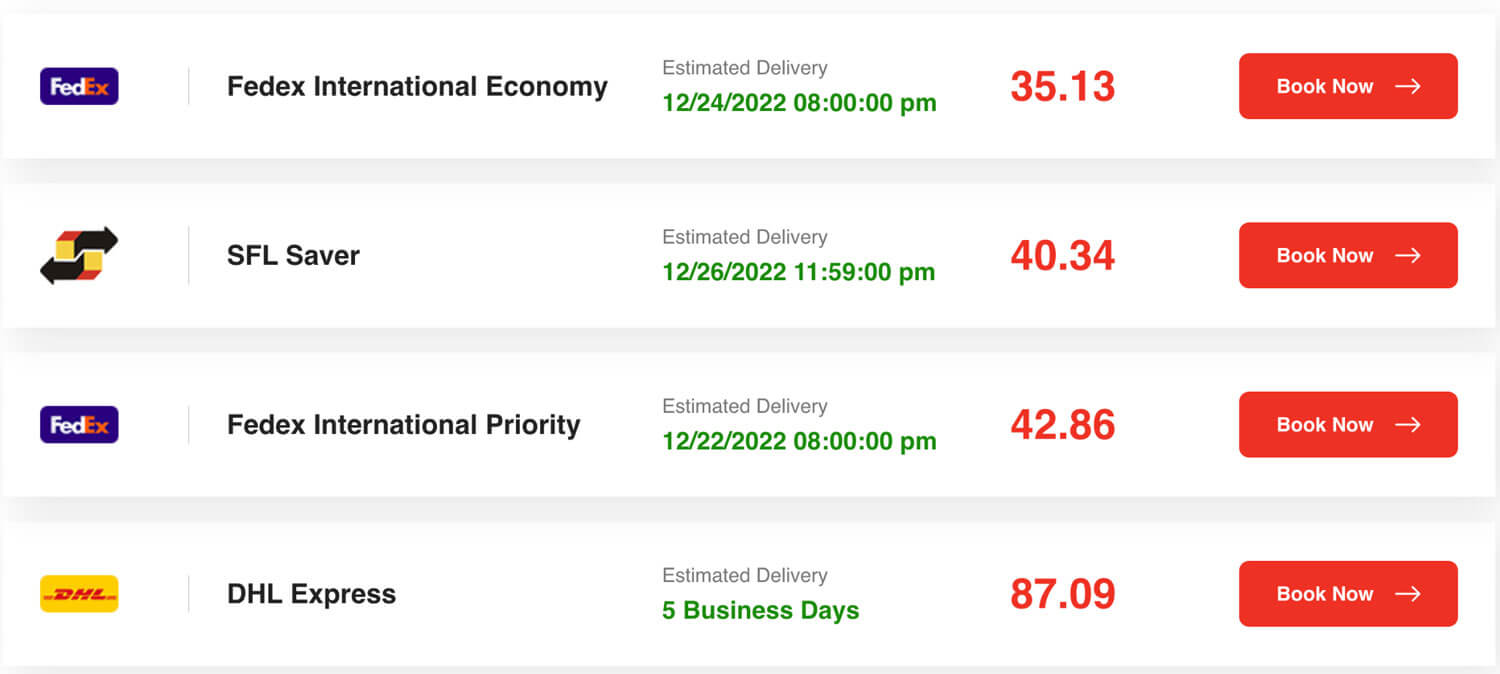 Here is a sample quote for a 2lb domestic package from San Jose, CA to Austin, TX.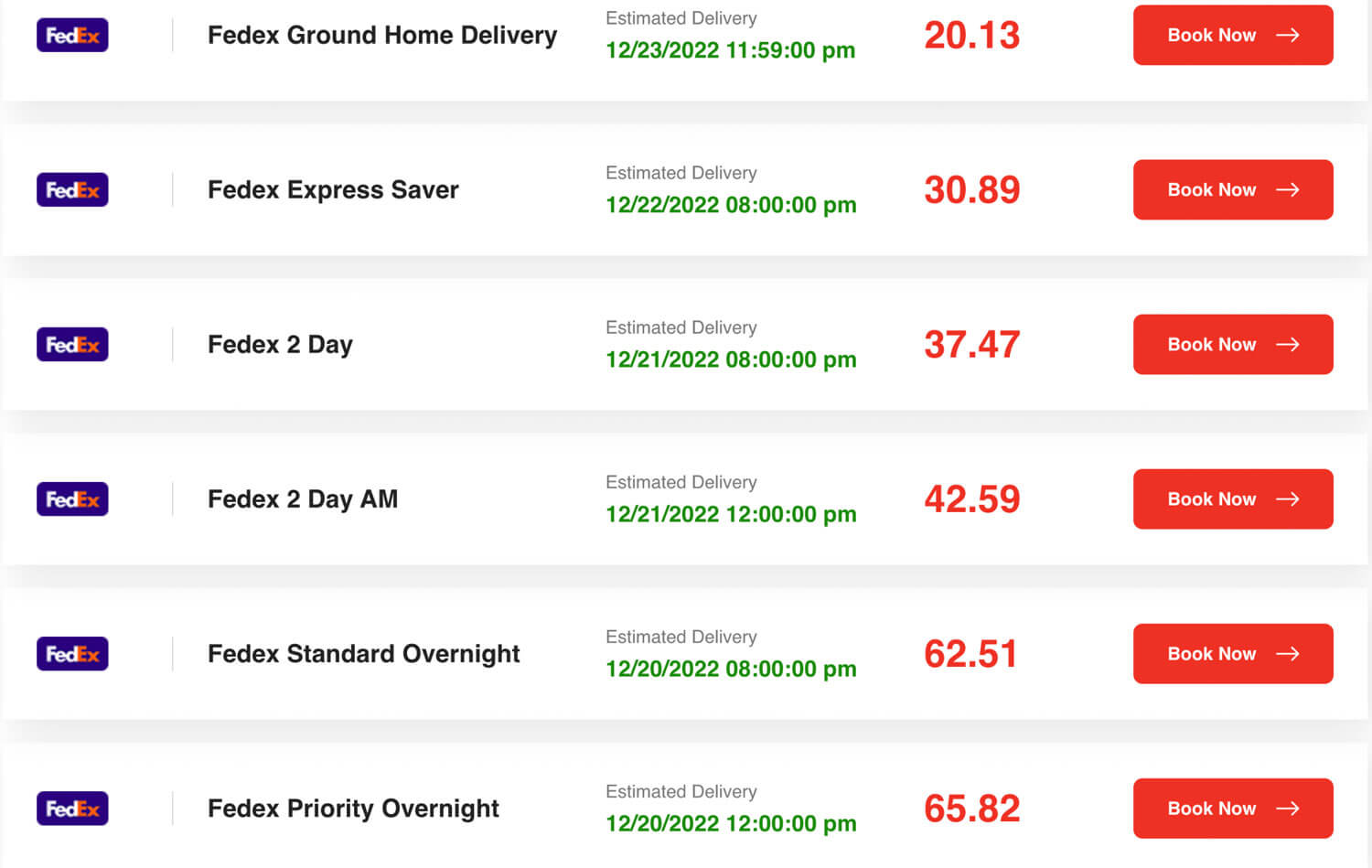 Shipping is an important aspect of running a successful eCommerce business. Improper planning and high shipping prices can affect your bottom line and have an impact on your end user experience. A shipping partner, such as SFL Worldwide, can help you with discounted shipping rates and a high level of shipping services with real-time tracking technology to deliver the ultimate brand experience. To learn more, visit SFL Worldwide or call 1-800-691-2335 for bookings and inquiries.
Your trusted logistics partner for hassle-free door-to-door shipping and moving services.
I've used SFL Worldwide for the past few years and I've been very happy with their service. They are always on time, their prices are reasonable, and their customer service is excellent. I would highly recommend them to anyone who needs a reliable courier service. Here are some specific examples of why I'm so happy with SFL Worldwide They have always been on time with my deliveries. I've never had to wait longer than expected for my package to arrive. Their prices are very reasonable. I've found that they are often cheaper than other courier services. Their customer service is excellent. I've had to contact them a few times with questions or concerns, and they have always been very helpful and responsive. Overall, I'm very happy with SFL Worldwide. They are a reliable, affordable, and customer-oriented courier service. I would highly recommend them to anyone who needs a courier service.
Mahesh Darshan
2023-05-20
Very supportive and patient. Documents reached on time. I would recommend their services to everyone. Thanks Mr, Punit for your guidance.
Best service with best rates
Chandramouli Potnuru
2023-05-11
SFL is Rocking!!! I had a urgent need to ship some legal documents to California from Texas, I have immediately called Punit from SFL as usual he has done his magic. The service is really superb and highly recommended.
Great service for my documents shipping from Hyderabad to USA. Reasonable rates and great customer service. I will recommend their services.