What is the cost of International shipping?
Get Quote and Save UPTO 70% on your next shipping
Please select from country
What is the cost of International shipping?
The cost associated with international shipping varies from one carrier to another. These costs usually include transportation, customs, port, and other additional fees per the shipping company. There are ways you can minimize your shipping costs and ship your packages at cheap rates. At SFL Worldwide, we offer up to 70% off shipping rates when you book leading carriers, such as FedEx, DHL, and UPS, through our website.
How to get the cheapest shipping rates?
Before booking your shipment, there are some factors to consider. These factors could impact the price of your shipment.

Package Weight

Package Dimension

Level of Service Chosen

Destinations involved.
There are multiple carriers that ship internationally from the USA. USPS offers some of the lowest rates for international shipments, making it a cost-effective option preferred by many shippers worldwide. That said, the quality and level of service by FedEx are unmatched. They have some of the most consistent and best delivery times of many providers in the market.
Here is an informative and insightful page detailing the cheapest way to ship internationally on our website.
How to figure out shipping costs?
SFL Worldwide has made it incredibly easy to figure out shipping costs. Gone are the days of spending countless hours browsing for the right prices. We gather quotes from leading carriers and get you the best quotes in seconds right here on our website.
1. Navigate to our rate page.
This page will allow you to calculate the shipping costs for your package, regardless of its nature.
Choose the package type, weight, dimensions of your box, and location details for an accurate quote.
3. Your Quotes are ready!
Simply choose the quote with the right cost and service for your shipment and be booking in seconds!
How much does shipping internationally cost?
SFL Worldwide is a logistics partner that has been providing shipping and moving services since 2005. Whether you're shipping documents or sending products to your customers, we have a shipping service curated just for your needs. We work with some of the top couriers in the shipping industry and have extensive connections worldwide to provide high-quality shipping services at incredibly competitive, low prices.
Below is an example of rates for a 2lbs box from San Jose, USA, to Chennai, India.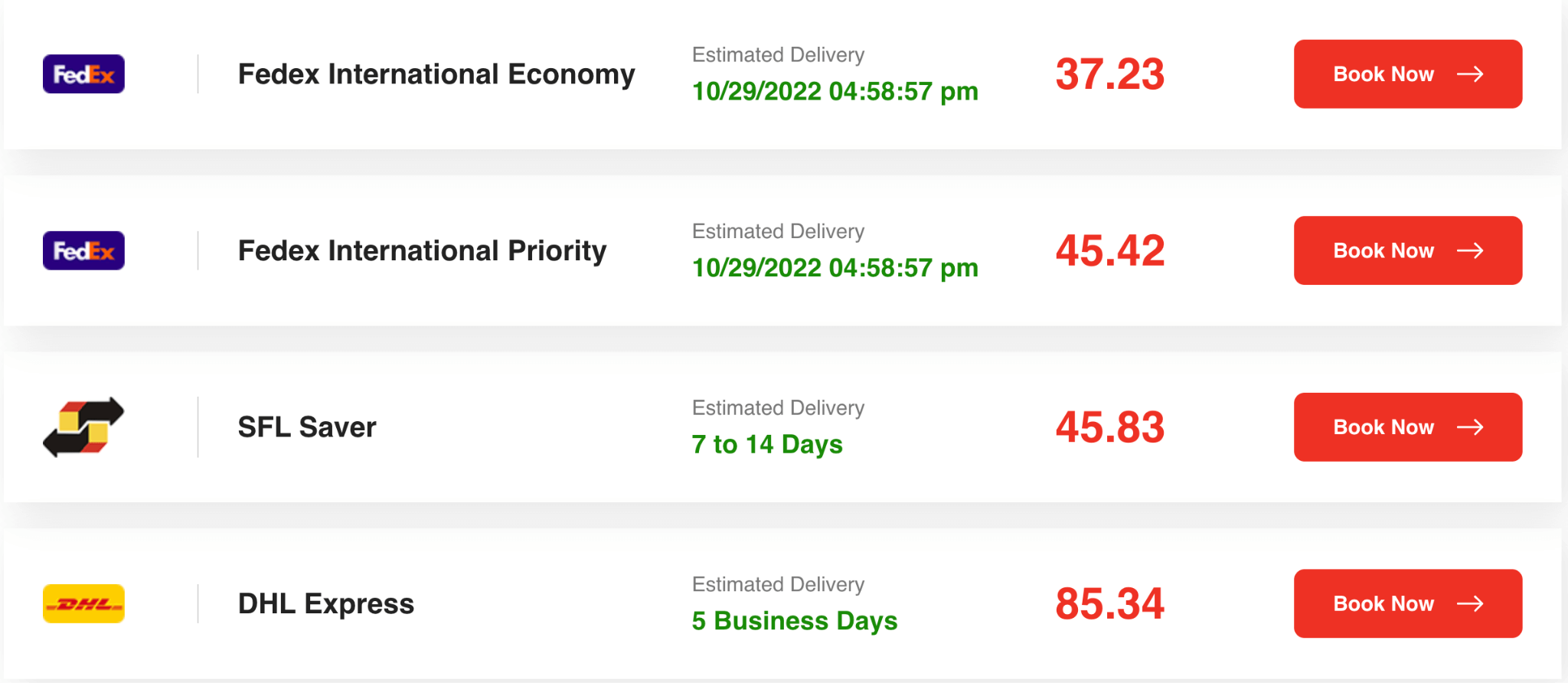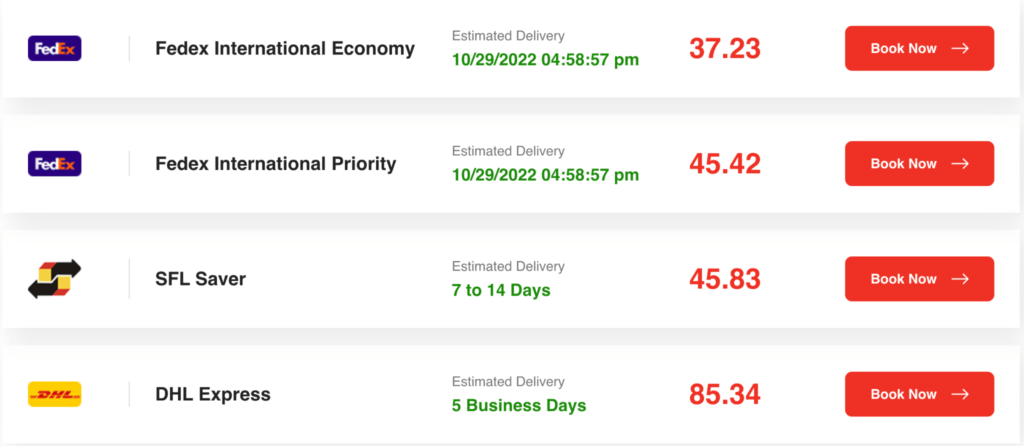 That's it! You now have all the information on the costs to ship internationally. Getting a shipping quote on SFL Worldwide is incredibly easy, and our booking processes are simple. Experience unparalleled, high-quality shipping services at low rates with our user-friendly online rate calculator.
To learn more about options offered by various carriers, click on the following links.
Check out our services page to learn more about what we have to offer at SFL Worldwide. We have an extensive resource section that has all the information you require on shipping worldwide.
Don't Just Take Our Word For It
Nice system, very easy to use. Good followup.
Kaushal Kishore
2022-07-09
I used this service for the first time and extremely pleased. Staff very courteous, very prompt and I got the shipping label pretty soon after completing the details and making payment. Much better choice economically compared to going to the shipping company directly. Would highly recommend for anyone! So happy that I found SflWOrldWide using Google search !
Krunal was most courteous, knowledgeable., efficient and professional. Exceeded expectations.
I am really satisfied with the services provided by SFL. They have provided me all the updates regularly till my package was delivered
Excellent service ! I have submitted the query in website and received timely response. Utkarsh Rana called to follow up and clarify the query. I made the payment online and immediately received the shipping label. The package was delivered as per committed date. Highly recommended!
Best courier service.
SFL is much cheaper and reliable when it comes to international shipping, I have used their service couple of times for sending documents from USA to India.
Excellent service, I send documents to home country at a very reasonable price, Highly recommend them for. customer support is very quick in turnaround. Great experience overall.