Ship boxes at discounted rates to India
Are you moving back to India? Do you have excess baggage and want to avoid extra charges at the airport? Call SFL worldwide to ship boxes to India for as low as $125.00 per box.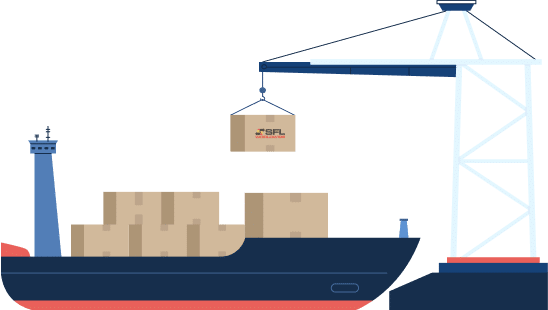 Get Quote and Save UPTO 70% on your next shipping

Please select from country

Please select to country
Ship Boxes to India Made Easy
We understand shipping overseas is complicated and can turn into an expensive project. At SFL Worldwide, we have curated special packages to make shipping boxes to India affordable and straightforward. Our flat rate shipping options also work best for customers who want to ship gifts to their family or friend or like to donate their clothes and other items to a charitable organization in India.
Choose from our flat rates for shipping boxes to India or special offers to ship 1 large box of 18x18x24 inches via ocean for only $125.00. You get a complete door-to-door service that includes door pickup, ocean freight, customs clearance, and door delivery with a 3-4 months transit time. If you are in a rush, we also offer Air Shipping to India with a standard transit time of 7 to 14 business days. Click here to get a free online quote for air freight…
Complete your shipment booking in 3 easy steps

Schedule your shipment on our website www.sflworldwide.com with sender and receipt information along with package and payment details.

Printing shipping labels are very easy at SFL Worldwide. Simply download and print your prepaid label from any regular printer.

You can either drop your package off at the nearest location (FedEx, DHL, and UPS) or arrange for a complimentary pickup at your doorstep.
The Tools & Information You Need For Moving to India
Our comprehensive suite of solutions is designed to help anyone moving to India with a smooth, safe, and affordable process. Get access to digital shipping solutions, calculators, resources, and more for a stress-free move.

The rules and regulations pertaining to customs duties vary by country. To avoid any customs violations, you can quickly consult our India Customs Duty Guide or speak to your assigned shipping advisor to learn about the customs process for your relocation to India.

India Prohibited Shipping Items Guide
When you are shipping or moving your belongings to India, there are certain items that you won't be allowed to send. These items vary by country, which is why we have put together a comprehensive guide for your easy reference.

Easy Shipping To India Calculator
Our shipping to India resource center features volumetric weight calculators that you can use in a breeze to provide customers with accurate estimated costs. Enter the dimensions of the box you would like to ship and review your dimensional weight for that box.
Frequently Asked Questions
Your trusted logistics partner for hassle-free door-to-door shipping and moving services.
I've used SFL Worldwide for the past few years and I've been very happy with their service. They are always on time, their prices are reasonable, and their customer service is excellent. I would highly recommend them to anyone who needs a reliable courier service. Here are some specific examples of why I'm so happy with SFL Worldwide They have always been on time with my deliveries. I've never had to wait longer than expected for my package to arrive. Their prices are very reasonable. I've found that they are often cheaper than other courier services. Their customer service is excellent. I've had to contact them a few times with questions or concerns, and they have always been very helpful and responsive. Overall, I'm very happy with SFL Worldwide. They are a reliable, affordable, and customer-oriented courier service. I would highly recommend them to anyone who needs a courier service.
Mahesh Darshan
2023-05-20
Very supportive and patient. Documents reached on time. I would recommend their services to everyone. Thanks Mr, Punit for your guidance.
Best service with best rates
Chandramouli Potnuru
2023-05-11
SFL is Rocking!!! I had a urgent need to ship some legal documents to California from Texas, I have immediately called Punit from SFL as usual he has done his magic. The service is really superb and highly recommended.
Great service for my documents shipping from Hyderabad to USA. Reasonable rates and great customer service. I will recommend their services.