Dependable Shipments to Kenya with SFL Worldwide
Compare shipping rates and get quotes under one roof when shipping to Kenya. SFL Worldwide helps you find the right quote with complete door-to-door service when shipping to Kenya.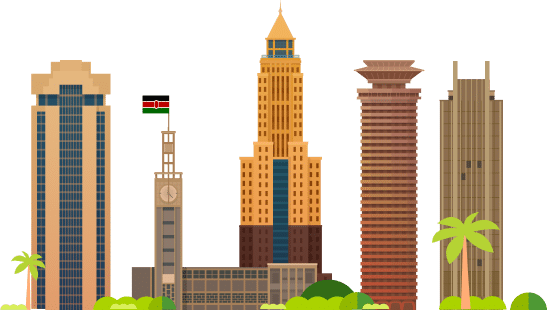 Get Quote and Save UPTO 70% on your next shipping

Please select from country

Please select to country
Shipping to Kenya From USA
Who has time to shop around for quotes anymore? Getting quotes from multiple vendors is a hassle and time-consuming process. With SFL Worldwide, we have made shopping for quotes easier with the click of a button! Simply click on Get Quote and enter your details. We collect quotes from leading courier providers and compare quotes for you under one roof! Whether you're an eCommerce business that is shipping to your customers or sending a gift to your family living in Kenya, our team of logistics providers delivers your shipment with care and on time! Send your package with a cheap courier to Kenya right here on our website!
USA to Kenya Shipping Options
Rate
Transit Time
Tracking
Door Pickup
Door Delivery
Delivery Confirmation
Custom Duty
$35.00
2-4 B. Days
Yes
At Additional Cost
Yes
Yes
Included
$65.00
3-5 B. Days
Yes
At Additional Cost
Yes
Yes
Excluded
$185.00
3-5 B. Days
Yes
At Additional Cost
Yes
Yes
Excluded

55% Off
Exclusive Discount
$225.00 $100.00

66% Off
Exclusive Discount
$190.00 $65.00

60% Off
Exclusive Discount
$200.00 $80.00
Ship for Less With SFL Worldwide
Did you know SFL Worldwide has partnered with industry giants such as FedEx, DHL, and UPS who provide us special discounted rates on a volume basis? This, in turn, allows us to provide you with a cheap courier to Kenya. With SFL Worldwide, you get reliable and trustworthy shipping that ensures your package on our ship from US to Kenya is delivered in a hassle-free manner! This is guaranteed regardless of your shipment type – be it for individual boxes or relocation purposes. Our trained and qualified staff will take you through every step and provide you with the necessary information when you ship from USA to Kenya. Whether you are sending time-sensitive documents or moving your entire family, we have you covered.
International Shipping to Kenya
International Shipping is a tedious process that requires you to ship USA to Kenya according to local laws. Not doing so can delay your shipment or cancel it altogether! This is especially true when you are shipping from USA to Kenya by sea. At SFL, we have a comprehensive suite of solutions that will provide you with the cheapest shipping from USA to Kenya and supporting information on customs regulations. Get in touch with us for queries on Kenya shipping and a member of our team will connect with you to help you further!
Our full-service move to Kenya includes:
Affordable & Reliable Shipping

Licensed Shipping via Air, Ocean, or Ground
24/7 Real-Time Tracking

A+ Rating from Better Business Bureau (BBB)
Fast and Cheap Courier to Kenya
Pay less for your shipment than you would with a direct courier! SFL Worldwide's user-friendly shipping calculator allows you to find the best rates when shipping to Kenya based on volumetric weight and the distance your package needs to travel. Find your shipping cost to Kenya by calculating volumetric weight which is the space your package will occupy on an aircraft, ship, or van. You can do it in seconds using our online calculator. Simply enter the length, width, and height of your package and get access to our discounted rates for cheap shipping to Kenya.

Schedule your shipment on our website www.sflworldwide.com with sender and receipt information along with package and payment details.

Printing shipping labels are very easy at SFL Worldwide. Simply download and print your prepaid label from any regular printer.

You can either drop your package off at the nearest location (FedEx, DHL, and UPS) or arrange for a complimentary pickup at your doorstep.
Easy Shipping To Kenya From USA
Our process is simple and aims to make your life easier! We provide you with intuitive shipping calculators that help you calculate costs for shipping Kenya or moving to Kenya based on volumetric weight and CFT (cubic feet) within seconds! Kenya cargo companies have a unique way of dealing with international shipments which is why we at SFL Worldwide have partnered with moving companies in Kenya and shipping companies in Kenya to navigate local laws and customs regulations with ease. We have tie-ups with freight companies for all shipment to Kenya via sea.
Our comprehensive guide will help you learn how to ship to Kenya in a few easy steps. As with any country, there are certain regulations and laws for customs in Kenya. Thankfully, our team of experts in SFL can help provide that information so your package can be shipped on time without any delay!

Moving Worldwide Since 2005

Flexible and Easy Scheduling

Online Tracking

Insurance Coverage

Door-to-Door Relocation

Dedicated Customer Support
Whether you're moving your family or your entire business, SFL Worldwide provides you with the necessary support you need to execute a smooth international move. In addition to moving your belongings, we offer packing services to help you every step of the way! At SFL, we have multiple options from LTL (Less-Than-Truck) to FTL (Full-Truckload) for any size of relocation. Our professional moving crew provides white-glove door-to-door relocation services with multiple consolidation centers across the USA. Enjoy some of the lowest rates on the internet you can find when moving to Kenya.
Onsite or Phone Survey

Door to Door Transportation

Unpack and assemble the furniture
Disassembly and Packing of Household goods

Customs Clearance under Transfer of Residence

Removal of packing debris

Customs Duties When Moving to Kenya
Every country has its own customs laws and Kenya is no different. Understanding and abiding by these local laws is essential to shipping or moving your packages on time. Our booking agent will take away all the stress of figuring out what you need to do and help you navigate all this information for a hassle-free move. Our expansive knowledge base provides information on customs duties for Kenya to help you with your move.

Prohibited Items When Shipping to Kenya
Kenya imposes strict import rules and regulations on items that are entering the country. Some items are either restricted or prohibited altogether in Kenya. Failure to abide can result in a shipping delay, additional fees, and confiscated belongings. Consult our extensive guide on the prohibited items when shipping to Kenya to ensure your shipping process is completed without a hitch!
Don't Just Take Our Word For It
Srinath Jukanti
2022-12-07
Excellent service
srinivasa Kosuri
2022-12-06
Nice experience with SFL worldwide. Their sales rep in the US was very helpful, polite and answered all my questions patiently.
Excellent service, I send documents to home country at a very reasonable price, Highly recommend them for. customer support is very quick in turnaround. Great experience overall.
Used this to ship documents to India at half the price of FedEx and I am happy with the service!
Amazing and reliable service at very cheap price.
Omkar Kulkarni
2022-12-02
Documents shipped with SFL to Mumbai with 1/3rd price (End carrier- Fedex). Highly recommend. Thanks Ambuj.
Shanmugavel Balasubramanian
2022-12-01
I shipped four boxes to Small village near Pattukkottai, Tamil Nadu India. It came to my home as it is. No issues. Great service, tracking and delivery.
Used SFL worldwide for my shipping services to india. They did a great job and able to get the shipment done in 4 days through fedex. Definitely recommend.
Really happy with the service. SFL was more than 50 % discounted than any other courier services. Even the document got delivered really fast.
Deepak Datwani
2022-11-29
Excellent service. Sent few documents internationally from Dallas, reached in 3 days at half the price that regular couriers would charge. Very professional team.