With a booming eCommerce marketplace, it becomes critical to work with a dependable and overseas shipping company that can have a positive impact on your company's bottom line and assist you in acquiring a much wider audience efficaciously. A skilled company will ensure your deliveries reach your consumer at the right time in a stable manner. That said, there are plenty of options to explore in the market today. Read this blog to learn how to choose the best international shipping company for your needs.
7 Considerations to Keep in Mind When Choosing an International Shipping Company
Here are some of our top recommendations to keep in mind when selecting an international shipping service for your business.
This is certainly, one of the top elements to recall whilst choosing the right shipping provider for your global shipments. Shipping rates depend on a number of things, starting from the place, delivery speed, level of service, and more. Please note that international shipping companies determine the costs for shipping internationally using the dimensional weight of your item. It makes sense to inquire with various carriers to find a competitive shipping rate. SFL Worldwide has an instant rate generator that gets you quotes from leading international shipping companies, such as FedEx, DHL, and UPS within seconds on our website.
2. Analyze your Shipping Needs
Next, you want to get your priorities straight. This helps in the final selection of an international shipping company. List your shipping requirements before you connect with a shipping provider. Curate a list of your priorities for shipping overseas. Ask yourself what is most important when it comes to your overseas shipments. What is the nature of your shipment? Are you looking at international moving companies for a residential or commercial move? Does your package need to handled using special equipment? How soon do you want your package to reach your customer? What is the most you will spend on every shipment? Some of these considerations will help you understand where your priorities lie and make it easier when choosing international shipping companies in USA or other countries to ship your overseas packages.
3. Research the company's reputation
Competitive and attractive deals may seem like an easier decision when it comes to choosing a provider for your overseas shipments. But it is very important for us to go with a provider who can deliver on time and in a secure manner. Not only will this improve own shipping reputation, but also lends a positive image to our overall reputation. It is always advisable to work with a known provider referred from our professional network. However, this may not always be possible. Instead, due diligence on all shipping companies will get you the best shipping service for your shipments. Gather as much information as you can about your provider by way of testimonials, reviews, social media pages, etc. This should give you a detailed insight into their performance and their response in handling sensitive issues.
An essential step in selecting a shipping carrier for your overseas packages is their specialization and understanding of what they bring to every shipment. Every shipping organization has its own specialization and knowledge for managing unique styles of shipments or delivery to precise areas. For instance, let's say you want to ship perishable produce to another country. In this case, you will want to choose an organization that can provide refrigerated shipping or temperature-controlled delivery. Or similarly, you can need to pick a provider with the capacity to deal with your oversized shipments with specialized equipment, such as lift gate, and so forth.
A commendable shipping service is one that offers its customers a stress-free solution with end-to-end visibility of overseas shipments every step of the way and gets them customer support when they really need it. At SFL Worldwide, we aim to simplify your supply chain process with additional service offerings by way of technological advancements and tools to complete your shipping process in a hassle-free manner. From giving you complete visibility of your shipments from start to finish and personalized guidance for your customs clearance for every cargo, SFL Worldwide has you covered.
One of the hardest things in shipping is locating a dependable provider that delivers to remote locations around the world. SFL Worldwide is a leading logistics company with an expansive network of delivery partners located in 200 destinations the world over. Our goal is to get you the best shipping for small business and the service you require at cost-effective shipping rates, even if your final destination is in a village located halfway across the world. You can take a look at our destinations page for more information on shipping via SFL Worldwide.
Gone are the days of enduring a laborious shipping process that took hours to book a single shipment. With advancements in technology, SFL Worldwide has an instant rate calculator that gets you rates from leading delivery partners, such as FedEx, DHL, and UPS, within seconds on your website.
CHOOSE SFL WORLDWIDE, SAY GOODBYE TO OBSTACLES.
Your partner in delivering packages of varying attributes. Our customer testimonials page speaks volumes about the quality of work we provide. We are always happy to serve you here at SFL Worldwide.
Conducting research and listing our requirements is the first and foremost step to finding the right shipping service to send overseas. With the tips mentioned in the blog should help narrow down the prospective players efficiently and soon guide you in finding the ultimate vendor for your needs. Shipping has a direct impact on your company's reputation. Therefore, working with a carrier that can amp up your reputation with stellar deliveries can create a positive image of your brand in your consumer's minds. Visit sflworldwide.com for more informational blogs.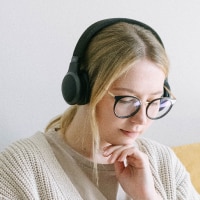 I'm Tammy Waller, a supply chain and logistics specialist with over 10 years of expertise. I've been an author and SFL employee for over 10 years.
As an author, I've been able to teach others. I love guiding users through supply chain and logistics operations.
I have substantial experience managing logistics operations, supply chain management, transportation, inventory management, and warehousing in shipping-moving and logistic services. I've worked on many worldwide logistics and supply chain projects, honing my abilities in negotiating rates, scheduling shipments, and managing vendors.