Fast and Quick Shipping to France
Save on our budget-friendly shipping from leading carriers, such as FedEx, DHL, and UPS, up to 70% off using our instant rate calculator and ship within seconds on SFL Worldwide.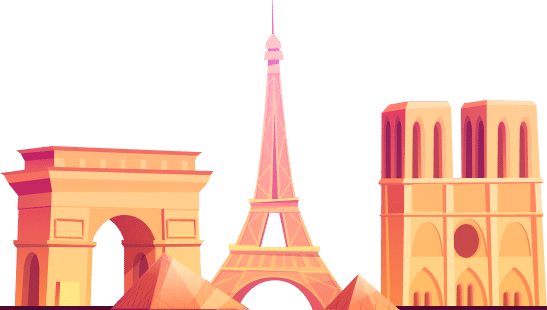 Get Quote and Save UPTO 70% on your next shipping

Please select from country

Please select to country
Shipping To France From USA
Ship packages to France from USA with all major carriers, such as FedEx, DHL, and UPS, at discounted rates up to 70% off. Enjoy a swift, secure shipping experience with low rates, price comparisons, and dedicated shipping advisors only at SFL Worldwide.
Here is a sample cost for shipping a package to Paris-70123, France from Dallas-75234 TX. *prices may vary
Rate
Transit Time
Tracking
Door Pickup
Door Delivery
Delivery Confirmation
Custom Duty
$38.00
2-4 B. Days
Yes
At Additional Cost
Yes
Yes
Included
$55.00
3-5 B. Days
Yes
At Additional Cost
Yes
Yes
Excluded
$110.00
3-5 B. Days
Yes
At Additional Cost
Yes
Yes
Excluded

55% Off
Exclusive Discount
$225.00 $100.00

66% Off
Exclusive Discount
$190.00 $65.00

60% Off
Exclusive Discount
$200.00 $80.00
SFL Worldwide's Easy Shipping Process
The shipping process at SFL Worldwide is designed to make shipping easier for our customers, whether you're shipping goods to your customers or relocating overseas for work. Our instant rate calculators eliminate tedious, demanding hours of research and negotiations with various shipping carriers to ship a small package from one place to another.
At SFL Worldwide, we get you quotes from all leading carriers within seconds and simplify it further by assigning dedicated shipping advisors with every booking to guide you at every step.
Here is a quick overview of our simple shipping process.

Finding a carrier for your needs is now easier than ever. For years, shopping for quotes was a highly time-consuming process. With SFL Worldwide's instant rate calculator, you can now say goodbye to laborious quotation shopping and enjoy instant shipping quotes within seconds. Our rate calculators get discounted quotes from major carriers you trust, such as FedEx, DHL, and UPS.

Now that you have exclusive, discounted rates from all carriers, you can select a service for your timeframe and budget. Our rate calculator makes it easy for you to compare and decide on an ideal service for your shipment. Please note that our support staff is always available to answer any questions before choosing the right service for your needs.

That's it! Once you choose the service, your booking is complete, and you are ready to ship your package by printing the prepaid label provided on the booking. We provide a tracking number and SFL account upon booking your shipment. You can use this SFL account to quickly access information on all your shipments and book future shipments on SFL Worldwide.
France Customs Declaration
Shipments being sent from non-EU countries are subject to a thorough customs clearance process. France is a member of the European Union and ensures all goods entering the union is compliant with European standards. Failure to comply will result in a shipping delay or confiscation altogether.
Your shipping advisor will advise you on documentation requirements and provide you with a list of prohibited items and charges to expect when shipping to France. Your advisor will also assist you in preparing these documents and getting them ready before sending out your shipment.
The time taken to ship to France is subject to various conditions – the type of service chosen for shipping, nature of the foods, carrier, and other unforeseen circumstances. For instance, choosing to ship under an International Economy service is slower than a priority service. Likewise, issues in the supply chain could result in a delay and so on. We highly recommend Express shipping for those who need their shipments sent immediately, such as crucial documents for submission or perishable food.
Once you decide which service is suitable for you, our shipping advisors can provide you with accurate information on the transit times to France. Please note that in the event of unforeseen circumstances, you must expect a delay in delivery.
Cargo Options For Shipping To France
We recommend shipping via the ocean to businesses and customers looking for cost-effective means of shipping their goods. If time is not the biggest constraint, ocean shipping is the way to go. The rates for ocean shipping are lower than any method of transportation. That said, the delivery times are also slower than other modes of transportation. Ocean shipping tends to take longer and is subject to as many customs requirements as any other shipping method.
The cargo options commonly sought for shipping to France from the US –
LCL or Less Than Container Load
Oftentimes, people opt to send their shipments via containers since that offers the lowest shipping prices. If you have goods that occupy lesser than a full container, LCL or Less than Container load is the ideal option. This option lets you consolidate your shipments and share container space with other shippers. You get the low rates of ocean shipping without filling up a container's worth of freight.
FCL or Full Container Load
We highly recommend FCL or Full Container Load for high-value, time-sensitive, and large-volume shipments. Whether moving freight for work or personal reasons, you get a whole container to load your things exclusively and do not share container space with anyone else, keeping your freight shipments safe in transit. What's better is since you ship more, you save more with FCL shipping.
Common Documents Needed While Shipping To France
A verbal declaration and proof of purchase are sufficient for goods valued at under 1,000 kg or EUR 1,000. Items of a higher value must be declared at the Customs Office with a brief declaration (air or maritime manifest) for the collection of goods.
These goods must also be accompanied by certain documents required by the French customs authorities.
SAD or Single Administrative Document
Any shipment entering France must comply with the procedures per the Single Administrative Document. The SAD describes the goods and their movement worldwide from the time of entry until customs formalities are completed.
This document is nothing but a legal invoice that contains information on the transaction between the buyer and the seller. The following information needs to be provided in the invoice.
Certificate of origin

Country of purchase

Date of issue
A detailed description of the items

Quantity

Other information related to the items.
You may be required to submit further information on a separate dangerous goods form if your package contains dangerous items containing batteries, lithium, and any deadly weapons.
EORI stands for Economic Operators Registration and Identification Number. Any business or person wishing to ship items to France must hold this EORI number to be able to import or export goods to and from France. This number is used for statistical purposes.
Why Choose SFL Worldwide For Shipping To France
Find discounted shipping rates and timely shipping services to France with SFL Worldwide. Our simplified shipping process makes the entire process easy for you with 3 simple steps. Follow these steps below for a hassle-free experience.
24/7 support to track your packages every step of the way!

Easy interface to get a quote and book within a few clicks!

Comprehensive resources for quick, reliable information!

France uses the harmonized system to calculate duties and taxes on goods entering the country. Customs duty is levied on the CIF value of the goods in accordance with the Common Customs Tariff(CCT). Duties are payable in cash in Euros – by check, cash money order, or bank transfer. An extension of the time limit for payment may be granted through collection credit or duty credit systems. Check our resources section for more information on customs laws and what to expect at customs clearance.

Prohibited Items To France
Every country has its own list of prohibited items that are banned from entering it. It is important to check these items before you commence booking your shipment to France. Our resource section on prohibited items is frequently updated for your reference and can be accessed at any time to learn what is prohibited or what is not. Before you begin your shipping process, it is always a good idea to make sure the items you plan to ship are not banned or restricted in the destination country.
Frequently Asked Questions For Shipping To France