Shipping to Germany from USA: Quick and Reliable
Whether you're shipping personal items or business goods, choose our shipping services to ship to Germany from US. Start shipping today!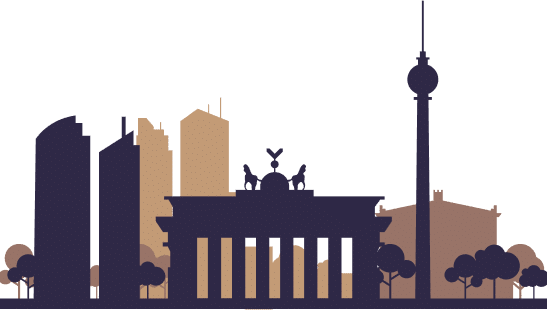 Get Quote and Save UPTO 70% on your next shipping

Please select from country

Please select to country
Shipping To Germany From the USA
When shipping to Germany from USA, SFL WorldWide is your trusted partner for seamless international logistics solutions. Navigating the intricacies of cross-border shipping can be daunting, but with our expertise, your shipment is in capable hands.
Our comprehensive shipping services to Germany cover every aspect of the shipping process, from documentation and customs clearance to efficient transportation. Leveraging our extensive network and experience, we ensure your cargo reaches its destination promptly and safely.
With real-time tracking and dedicated customer support, you stay informed and empowered throughout the journey. Count on SFL WorldWide to streamline shipping from USA to Germany, making international trade a hassle-free experience. Your goods, our commitment – a partnership that bridges continents.
How Much To Ship To Germany?
The shipping cost to Germany from USA varies based on package size, weight, shipping method, and any additional services. At SFL WorldWide, we offer competitive rates tailored to your needs, ensuring transparency and affordability in your international shipping process.
NOTE: The discounted rates mentioned below were verified and updated in November 2023. For the latest pricing details, please visit the Get Rate page.
Discounted Rates
Service
Transit Time
Tracking
Door Pickup
Door Delivery
Delivery Confirmation
Custom Duty
$89.7 $30.84
FedEx Connect Plus
2-5 B. Days
Yes
At Extra Cost
Yes
Yes
Included
$242.28 $53.16
FedEx Intl Economy
7-14 B. Days
Yes
At Extra Cost
Yes
Yes
Excluded
$468.68 $105.63
FedEx Intl Economy
7-14 B. Days
Yes
At Extra Cost
Yes
Yes
Excluded
$1066.14 $164.28
FedEx Connect Plus
7-14 B. Days
Yes
At Extra Cost
Yes
Yes
Excluded

55% Off
DHL Exclusive Discount
$225.00 $100.00

66% Off
FedEx Exclusive Discount
$190.00 $65.00

60% Off
UPS Exclusive Discount
$200.00 $80.00
How to Ship A Package to Germany?
You should take note of the following details:

Choose a reputable carrier like SFL Worldwide with a tracking system and insurance.


Determine weight
and dimensions

Put the correct recipient's details

Fulfill custom requirements
Fill out the customs declaration form and attach it to the outside of the package.
How to Ship to Germany With SFL Worldwide and Save!
Shipping to Germany is a breeze with SFL Worldwide. Our streamlined process ensures a smooth experience while helping you save. Firstly, gather your shipment details and reach out to us. Our expert team will provide personalized guidance on packaging, documentation, and customs requirements, ensuring your goods are ready for transit.
Next, choose from our range of shipping options tailored to your timeline and budget. Whether it's standard shipping for cost-effective solutions or expedited services for time-sensitive deliveries, we offer choices that suit your needs. We'll also help you optimize your shipment to prevent unnecessary expenses.
At SFL Worldwide, saving goes beyond competitive rates. We assist you in avoiding potential pitfalls that can lead to unforeseen costs. Our in-depth knowledge of German customs regulations ensures a seamless clearance process, reducing the risk of delays and additional charges.
An Easier Way to Ship to Germany

Schedule your shipment on our website www.sflworldwide.com with sender and receipt information along with package and payment details.

Printing shipping labels are very easy at SFL Worldwide. Simply download and print your prepaid label from any regular printer.

You can either drop your package off at the nearest location (FedEx, DHL, and UPS) or arrange for a complimentary pickup at your doorstep.
Which Carriers Ship to Germany from USA?
Several reputable carriers offer shipping services to Germany, providing diverse options for international shipping needs. Major carriers like FedEx, UPS, DHL, and USPS are well-established choices for sending packages to Germany from the USA. These carriers offer various shipping methods, including standard and expedited options, allowing you to select the one that best suits your budget and delivery timeline. Also, freight and cargo shipping companies provide comprehensive services for larger shipments to Germany.
| | Service | Price* | Delivery Time |
| --- | --- | --- | --- |
| FedEx | International Priority® | $58.62 | 2 to 5 business days |
| FedEx | International Connect Plus | $37.83 | 6 to 10 business days |
| FedEx | International Economy® | $53.16 | 6 to 10 business days |
| UPS | Worldwide Expedited | $48.67 | 2 to 5 business days |
| UPS | Worldwide Saver | $54.44 | 2 to 5 business days |
| USPS | Priority Mail Express International | $83.42 | 3 to 5 business days |
| USPS | Priority Mail International | $71.03 | 6 to 10 business days |
| DHL | Global Express | $91.74 | 6 to 7 business days |
NOTE: SFL Worldwide provides discounted rates through various carriers for shipments from the US to Germany. The above mentioned prices are calculated based on respective carrier calculators for a 5 lbs package in November 2023, and are subject to change.
Best Shipping Options to Germany from USA
When shipping to Germany, you have various reliable carrier options: DHL, FedEx, UPS, and USPS. Each carrier brings its own strengths to the table, catering to various shipping needs and preferences.
FedEx Shipping to Germany

FedEx is a reputable choice for efficient and dependable international shipping to Germany. With a range of versatile options, FedEx accommodates diverse shipping requirements. Delivery times typically span 2 to 5 business days for FedEx shipments destined for Germany.

DHL, a renowned global logistics company, offers swift express shipping solutions to Germany. Their expedited options guarantee prompt and secure deliveries. The estimated shipment duration for DHL services to Germany varies between 2 to 6 business days.

With an extensive network within Germany, UPS, provides well-established shipping services. Catering to a variety of needs, UPS offers tailored solutions. Shipping times within Germany range from 2 to 7 business days, depending on the chosen UPS service.


The United States Postal Service (USPS) extends its international shipping services to Germany from the USA. Opt for the budget-friendly First-Class Mail International option, which features a delivery timeframe of approximately 2 to 4 weeks, making it an economical choice for shipping to Germany.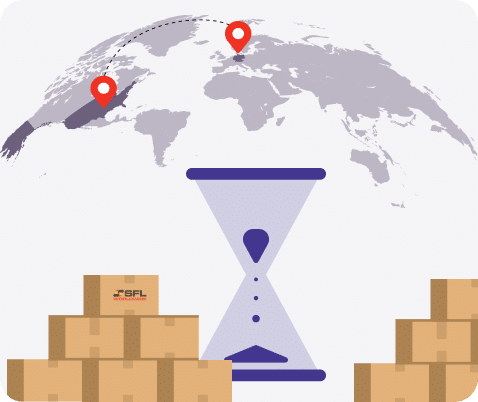 Shop from Any US Store, Ship to Any Germany Door
Experience seamless cross-border shopping with SFL Worldwide's USA-to-Germany shipping service. Gain access to a complimentary US address, indulge in shopping at your preferred American stores, and entrust us to handle the hassle of shipping to your doorstep. We collaborate with reputable carriers like FedEx, DHL, and UPS, offering you flexibility and choice in your shipping preferences.
Book your shipments effortlessly through SFL Worldwide's user-friendly platform, connecting your desired items from the US to your location in Germany with convenience and efficiency. Embrace a new dimension of international shopping and shipping today!
How Long Does it Take for Shipping from USA to Germany?
The shipping duration from the USA to Germany varies based on several factors, including the shipping method chosen, the carrier, customs clearance, and the specific origin and destination locations. Generally, express shipping options have shorter delivery times than standard or economy services.
When opting for expedited services like DHL, FedEx, or UPS, the average transit time can range from 2 to 5 business days. These carriers prioritize swift international deliveries, making them suitable for urgent shipments. However, it's important to note that unexpected delays, such as customs processing, weather conditions, or peak shipping seasons, can influence the overall delivery timeframe.
For more budget-conscious options, USPS provides international shipping services to Germany. While cost-effective, the First-Class Mail International option typically involves longer transit times. Deliveries can take around 6 to 10 business days, but sometimes, it might extend to 2 to 4 weeks. This slower pace makes USPS an appropriate choice for less time-sensitive shipments where cost savings are a priority.
It's crucial to consider potential delays that could occur during customs clearance. German customs regulations require thorough inspections, which can sometimes lead to additional days before the package is released for final delivery. Additionally, the origin and destination within the USA and Germany play a role; shipments from significant cities might have slightly faster transit times than those from more remote areas.
Handling Times, Customs, and Other Delays While Shipping to Germany
Shipping to Germany involves a multi-faceted process that includes handling times, customs clearance, and potential delays. Understanding these aspects can help you navigate international shipping more effectively and manage expectations.
Before your package embarks on its journey to Germany, it undergoes various handling processes. This includes acceptance at the origin facility, transportation to international hubs, and sorting for international dispatch. These initial handling stages can add a day or two to the overall shipping timeline.
Customs clearance is a crucial step for international shipments. German customs regulations require thorough inspection and documentation. Delays can arise if your package lacks accurate and complete paperwork or contains restricted or prohibited items. It's essential to provide detailed and accurate information to expedite the customs clearance.
Shipments to Germany may be subject to customs duties and taxes based on the value and nature of the goods. Delays can occur if the recipient does not pay these fees promptly or if the customs declaration needs to be revised. Collaborating with your carrier to understand these fees and ensuring proper payment can help prevent delays.
Just like any shipping route, peak seasons and adverse weather conditions can impact transit times. High shipping volumes during holidays or special occasions can lead to congestion and slower processing. Weather-related disruptions, such as storms or extreme conditions, might cause delays in transportation and handling.
Accurate documentation is vital for seamless international shipping. Only accurate or complete information can lead to delays during customs processing. Ensure that your package details, value, and description match the provided documentation to prevent unnecessary hold-ups.
Local Delivery Challenges
The local delivery process comes into play after customs clearance. Factors such as recipient availability, local holidays, or unforeseen delivery challenges in Germany can add a final layer of delay. Providing clear and accurate recipient information can help avoid unnecessary hurdles during this stage.
What Can I And Can't I Ship To Germany?
You can generally send personal and commercial goods, documents, and non-restricted items when shipping to Germany. Prohibited items encompass illegal substances, endangered species, and specific wildlife products.
General Guidelines and Prohibited Items When Shipping to Germany
It's crucial to refer to the German Customs Authority (Zoll) or your chosen shipping carrier for precise regulations and limitations. However, there are limitations on items like:
Perishable Food Items

Alcohol

Firearms

Hazardous materials

Certain electronics and equipment

Important Rules And Regulations
When shipping packages from the USA to Germany, it's crucial to grasp fundamental directives and restricted articles to facilitate effortless customs clearance. Adhering to these guidelines ensures a hassle-free shipping experience.
Thorough and precise customs documentation, including comprehensive commercial invoices, detailed packing lists, and any required permits, is indispensable for a seamless customs procedure. Providing accurate information helps expedite the inspection process and minimizes the risk of delays.
Bear in mind that imported items may attract duties and taxes contingent on their value and category. The recipient assumes responsibility for settling these charges to facilitate the customs release. Familiarizing yourself with potential levies aids in effective financial planning and prevents unexpected costs upon delivery.
Before shipping to Germany from USA, it's advisable to consult the Customs Authority or your designated shipping carrier for specific regulations and any updated restrictions. By adhering to these guidelines and preparing meticulous documentation, you ensure your shipment reaches its destination in Germany without unnecessary hindrances, streamlining the customs process for both you and the recipient.
What are the Advantages of Choosing SFL Worldwide for Shipping to Germany?
There are several benefits to using SFL Worldwide for shipping to Germany:

SFL Worldwide presents competitive pricing for shipments to Germany. Our collaborations with major carriers enable us to extend savings of up to 70% on standard rates to our valued clients.

Real-time Shipment Tracking
SFL Worldwide empowers customers with real-time shipment tracking, enabling comprehensive monitoring throughout the entire shipping journey.

Expertise in Customs Clearance
Navigating customs clearance in Germany can be intricate and time-intensive. SFL Worldwide boasts a wealth of experience in this realm, aiding customers in maneuvering through the process efficiently, ensuring swift clearance for their shipments.

Flexible Shipping Alternatives
SFL Worldwide offers a versatile array of shipping alternatives to Germany, encompassing air freight, ocean freight, and express courier services. This array of choices empowers customers to opt for the shipping mode that aligns seamlessly with their requirements and budget.

Recognizing the distinct requisites of diverse shipments, SFL Worldwide crafts customized solutions to cater to your specific needs. Be it shipping small parcels, large consignments, or oversized items, we've got you covered.

Dedicated Customer Support
SFL Worldwide boasts a dedicated customer support team primed to address any queries or concerns you may harbor. Reach out to us effortlessly via phone, email, or live chat, and experience the unparalleled support we're committed to providing.
Partnering with SFL Worldwide in Germany

Partnering with Fulfillment Professionals
For a seamless and efficient shipping process, it's essential to collaborate with professionals well-versed in the customs procedures and regulations of Germany. Our team of experts assists both individuals and businesses in simplifying the complexities of international shipping.

Inquire About Fulfillment Costs
Choose a fulfillment company and shipping option before initiating your shipping endeavors. Gaining insights into pricing details and comparing rates is a pivotal step towards identifying the most economically viable choice. Obtain precise and tailored information by submitting a quote request.