Reliable and Efficient Shipping to Germany
Want reliable shipping to Germany? Unlock low shipping rates from trusted carriers, such as FedEx, DHL, and UPS, with our rate calculator and book within seconds on SFL Worldwide!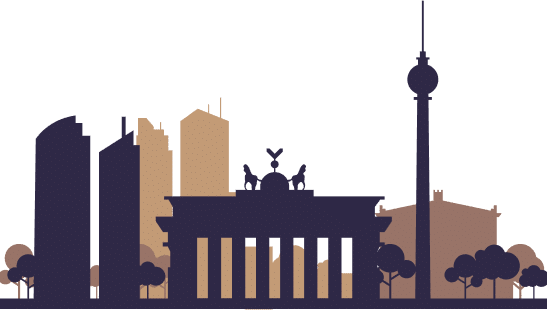 Get Quote and Save UPTO 70% on your next shipping

Please select from country

Please select to country
Safe and Swift Shipping To Germany From the USA
Ship to your favorite destinations in Germany from Berlin to Austria with our safe and secure shipping to Germany from the United States. Save up to 70% off on your shipments when you book any major carrier, such as FedEx, DHL, and UPS, on SFL Worldwide.
Here is a sample cost for shipping a package to Frankfurt-60306, Germany from Dallas-75234 TX. *prices may vary
Rate
Transit Time
Tracking
Door Pickup
Door Delivery
Delivery Confirmation
Custom Duty
$38.00
2-4 B. Days
Yes
At Additional Cost
Yes
Yes
Included
$55.00
3-5 B. Days
Yes
At Additional Cost
Yes
Yes
Excluded
$110.00
3-5 B. Days
Yes
At Additional Cost
Yes
Yes
Excluded

55% Off
Exclusive Discount
$225.00 $100.00

66% Off
Exclusive Discount
$190.00 $65.00

60% Off
Exclusive Discount
$200.00 $80.00
German Customs Declaration
Any shipment being sent from a non-EU country must go through customs clearance. Germany has stringent regulations for goods entering their country. The duties and taxes paid on any goods shipped depend on the item itself. Your shipping advisor can advise you on documentation requirements and provide you with a list of prohibited items and charges to expect when shipping to Germany. Your advisor will also assist you in preparing these documents and getting them ready before sending out your shipment.
Consignments may be directly sent to Deutsche Post AG provided they are not banned, restricted, or subject to duties. When consignments are subject to clearance from the customs authorities, ensure accurate information is attached on your shipments. Any wrong information or omitting information altogether will result in a delivery delay or confiscation.
SFL Worldwide's Easy Shipping Process
Booking shipments shouldn't be complicated. For a long time, shipping has been tedious, demanding hours of research and negotiations with various shipping carriers to ship a small package from one place to another. At SFL Worldwide, we took this problem and decided to simplify it by developing instant rate calculators and assigning dedicated shipping advisors who are here to guide you at every step.
Here is a quick overview of our simple shipping process.

Finding a carrier for your needs is now easier than ever. For years, shopping for quotes was a highly time-consuming process. With SFL Worldwide's instant rate calculator, you can now say goodbye to laborious quotation shopping and enjoy instant shipping quotes within seconds. Our rate calculators get discounted quotes from major carriers you trust, such as FedEx, DHL, and UPS.

Now that you have exclusive, discounted rates from all carriers, you can select a service for your timeframe and budget. Our rate calculator makes it easy for you to compare and decide on an ideal service for your shipment. Please note that our support staff is always available to answer any questions before choosing the right service for your needs.

That's it! Once you choose the service, your booking is complete, and you are ready to ship your package by printing the prepaid label provided on the booking. We provide a tracking number and SFL account upon booking your shipment. You can use this SFL account to quickly access information on all your shipments and book future shipments on SFL Worldwide.
The transit time to Germany is subject to many factors – level of service, nature of goods being shipped, carrier, circumstances, and more. Economy services take longer to deliver your shipments but are great when you want to save some money. Express shipping is ideal for those wishing to send their shipments immediately, such as essential documents for submission or perishable food. Once you decide which service is suitable for you, our shipping advisors can provide you with accurate information on the transit times to Germany. Please note that in the event of unforeseen circumstances, you must expect a delay in delivery.
Cargo Options For Shipping To Germany
Ocean shipping is often considered when the budget is low and you are looking for a great deal. The rates for ocean shipping are considerably low, unmatched by any other mode of transportation. However, the delivery times are also significantly slower than other modes of transportation. Ocean shipping tends to take longer and is subject to as much scrutiny as any other shipping method.
The cargo options commonly sought for shipping to Germany from US –
LCL or Less Than Container Load
This cargo option is commonly used by those with fewer goods. This option lets you consolidate your shipments and share container space with other shippers. You get the low rates of ocean shipping without filling up a container's worth of freight.
FCL or Full Container Load
This option is ideal for those moving their homes or organizations to another country. You get a whole container exclusively for your things and do not share container space with anyone else, keeping your shipments secure and safe in transit.
Common Documents Needed While Shipping To Germany
All goods entering Germany must be accompanied by certain documents required by the German customs authorities.
SAD or Single Administrative Document
Any shipment entering Germany must comply with the procedures per the Single Administrative Document. The SAD describes the goods and their movement worldwide from the time of entry until customs formalities are completed.
This document is nothing but a legal invoice that contains information on the transaction between the buyer and the seller. The following information needs to be provided in the invoice.
Certificate of origin

Country of purchase

Date of issue
A detailed description of the items

Quantity

Other information related to the items.
You may be required to submit further information on a separate dangerous goods form if your package contains dangerous items containing batteries, lithium, and any deadly weapons.
EORI stands for Economic Operators Registration and Identification Number. Any business or person wishing to ship items to Germany must hold this EORI number to be able to import or export goods to and from Germany. This number is used for statistical purposes.
Why Choose SFL Worldwide For Shipping To Germany
With SFL Worldwide, you are guaranteed the lowest shipping rates and the flawless US to Germany shipping experience we are known to provide. SFL Worldwide's simplified shipping process makes shipping with us a breeze. Follow these simple steps below for a hassle-free experience.
24/7 support to track your packages every step of the way!

Easy interface to get a quote and book within a few clicks!

Comprehensive resources for quick, reliable information!

When shipping to Germany, your shipment may be subject to duties and taxes depending on the local customs laws of Germany. Check our resources section for more information on what to expect at customs clearance. Germany calculates customs charges using the CIF method, where the seller is responsible for any costs in transporting the items and insuring to protect the buyer from any damages that may occur during transit.

Prohibited Items To Germany
Before you begin your shipping process, it is always a good idea to make sure the items you plan to ship are not banned or restricted in the destination country. We have a dedicated section for prohibited items on our website, frequently updated for your reference. Please note that this list is subject to changes, and it is always a good idea to check with your shipping company before finalizing or booking your shipment.
Frequently Asked Questions For Shipping To Germany