Shipping to Italy from USA: Cheap & Fast
Whether you're shipping personal items or business goods, choose our shipping services to ship to Italy from the US. Start shipping today!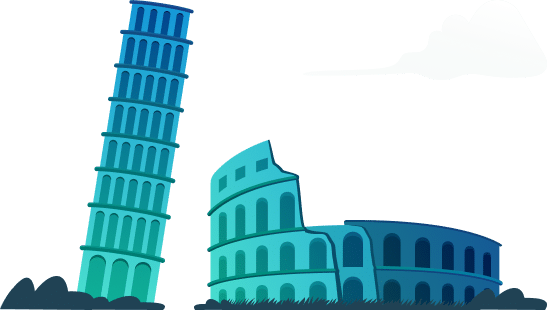 Get Quote and Save UPTO 70% on your next shipping

Please select from country

Please select to country
Shipping to Italy from USA
When it comes to international shipping, SFL Worldwide is your trusted partner for seamless deliveries from the USA to Italy. With a commitment to excellence, we offer a range of shipping solutions tailored to your needs. Whether it's commercial cargo, personal belongings, or time-sensitive shipments, we ensure secure transportation and timely arrivals.
Our experienced team understands the intricacies of international shipping, including customs regulations and documentation. We take the hassle out of the process, making sure your goods reach their destination without complications. Choose from various shipping options, including air, sea, and expedited services, allowing you to balance cost and speed.
SFL Worldwide's dedication to customer satisfaction, combined with our global network, guarantees a smooth shipping experience. Trust us to handle your shipments with care, providing you with peace of mind as your packages journey from the USA to Italy.
How Much is Shipping From USA to Italy?
The cost of shipping to Italy from USA varies based on factors like package size, weight, shipping method, and delivery speed. SFL Worldwide provides competitive pricing tailored to your specific needs. We offer transparent quotes and options to suit your budget, whether you opt for air or sea freight. Contact us for a personalized estimate and discover cost-effective shipping solutions.
NOTE: The discounted rates mentioned below were verified and updated in November 2023. For the latest pricing details, please visit the Get Rate page.
Discounted Rates
Service
Transit Time
Tracking
Door Pickup
Door Delivery
Delivery Confirmation
Custom Duty
$89.7 $30.84
FedEx Connect Plus
2-5 B. Days
Yes
At Extra Cost
Yes
Yes
Included
$242.28 $53.16
FedEx Intl Economy
7-14 B. Days
Yes
At Extra Cost
Yes
Yes
Excluded
$468.68 $105.63
FedEx Intl Economy
7-14 B. Days
Yes
At Extra Cost
Yes
Yes
Excluded
$1066.14 $164.28
FedEx Connect Plus
7-14 B. Days
Yes
At Extra Cost
Yes
Yes
Excluded

55% Off
DHL Exclusive Discount
$225.00 $100.00

66% Off
FedEx Exclusive Discount
$190.00 $65.00

60% Off
UPS Exclusive Discount
$200.00 $80.00
Best Way to Send A Package to Italy from US
You should take note of the following details while sending a package to Italy:

Choose a reputable carrier like SFL Worldwide with a tracking system and insurance.


Determine weight
and dimensions

Put the correct recipient's details

Fulfill custom requirements
Fill out the customs declaration form and attach it to the outside of the package.
How to Ship to Italy With SFL Worldwide and Save!
Streamline your shipping from USA to Italy with SFL Worldwide and unlock savings with upto 70% discounts! Begin by requesting a personalized quote via our website or contacting our team. Tailor your shipping method – opt for speedy air or budget-friendly sea freight.
Protect your items by adhering to our packaging tips, and rely on our guidance for proper materials. Let us ease the burden of documentation, assisting you with customs forms and declarations. Stay in the loop with real-time tracking.
To maximize savings, consider consolidating shipments. With SFL Worldwide, shipping to Italy is synonymous with cost-efficient, hassle-free deliveries. Your budget is valued, and quality service is ensured.
An Easier Way to Ship to Italy

Schedule your shipment on our website www.sflworldwide.com with sender and receipt information along with package and payment details.

Printing shipping labels are very easy at SFL Worldwide. Simply download and print your prepaid label from any regular printer.

You can either drop your package off at the nearest location (FedEx, DHL, and UPS) or arrange for a complimentary pickup at your doorstep.
Which Carriers Ship to Italy?
Several reputable carriers offer shipping services to Italy. Notable options include global giants like FedEx, UPS, DHL, and USPS. These carriers provide a range of shipping solutions, including express air freight and standard international shipping.
| | Service | Price* | Delivery Time |
| --- | --- | --- | --- |
| FedEx | International Priority® | $58.62 | 2 to 5 business days |
| FedEx | International Connect Plus | $37.83 | 6 to 10 business days |
| FedEx | International Economy® | $53.16 | 6 to 10 business days |
| UPS | Worldwide Expedited | $48.67 | 2 to 5 business days |
| UPS | Worldwide Saver | $54.44 | 2 to 5 business days |
| USPS | Priority Mail Express International | $86.36 | 3 to 5 business days |
| USPS | Priority Mail International | $69.90 | 6 to 10 business days |
| DHL | Global Express | $91.74 | 6 to 7 business days |
NOTE: SFL Worldwide provides discounted rates through various carriers for shipments from the US to Italy. The above mentioned prices are calculated based on respective carrier calculators for a 5 lbs package in November 2023, and are subject to change.
Diverse Shipping Carrier Choices for Shipping from USA to Italy
Each carrier has unique strengths and benefits, making the selection process crucial. Consider factors such as delivery speed, pricing, reliability, tracking options, insurance, and specific requirements for your shipment.

FedEx stands as a dependable international shipping carrier that ensures efficient and reliable services to Italy. Their versatile options cater to various shipping needs. The delivery timeframe for FedEx shipments can vary between 2 to 5 business days.

DHL, a renowned global logistics company, specializes in express shipping services. With expedited options for Italy, DHL guarantees swift and dependable deliveries. The shipment duration with DHL can span from 2 to 6 business days.

With an extensive presence in Italy, UPS, offers a wide range of shipping solutions to meet diverse needs. UPS delivery times typically range from 2 to 7 business days, ensuring comprehensive coverage.


The United States Postal Service (USPS) extends its international shipping services, including shipments from the USA to Italy. Opting for First-Class Mail International presents an economical choice, albeit with a delivery period of 2 to 4 weeks.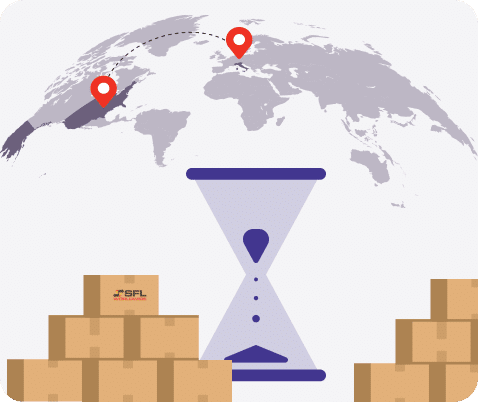 Shop from Any US Store, Ship to Any Italian Address
Experience the convenience of shopping from any US store and having your purchases delivered directly to your doorstep in Italy with SFL Worldwide. Get a FREE US address, indulge in shopping at your preferred American retailers, and allow us to manage the shipping intricacies.
Teaming up with major carriers such as FedEx, DHL, and UPS, we ensure dependable and timely delivery to Italy. SFL Worldwide simplifies the process of booking shipments, providing an effortless way to access US products stress-free.
Embrace the liberation of international shopping without boundaries as we take charge of delivering your purchases from the USA right to your Italian address.
How Long Does it Take for Shipping to Italy from USA?
The duration of shipping from USA to Italy can vary based on several factors, including the shipping method chosen, the origin and destination cities, customs processing, and any unforeseen delays. Generally, express shipping methods like air freight tend to have quicker delivery times compared to standard sea freight options.
For expedited services, such as FedEx or DHL, shipping from USA to Italy can typically take around 2 to 5 business days. These carriers prioritize fast deliveries and often provide real-time tracking to monitor the shipment's progress.
When using standard air freight, the shipping duration might extend to approximately 5 to 10 business days. This option offers a balance between speed and cost, making it suitable for less time-sensitive shipments.
Sea freight, on the other hand, is a cost-effective choice but comes with longer transit times. Shipping to Italy from USA via sea freight can take approximately 4 to 6 weeks, depending on the specific port of departure and arrival.
Handling Times, Customs, and Other Delays While Shipping to Italy
Shipping goods to Italy from the USA involves a combination of factors that can impact the overall timeline of delivery. Handling times, customs procedures, and potential delays are crucial considerations to ensure a smooth shipping experience.
Before your shipment even leaves the point of origin, there are initial handling processes that take place. This includes packaging, labeling, and arranging transportation to the departure port or airport. Depending on the shipping provider and the level of preparation, these handling times can vary while shipping to Italy.
When goods cross international borders, they go through a series of checks and procedures to ensure compliance with regulations, assess duties and taxes, and safeguard against prohibited items. Italian customs authorities carefully examine documentation, verify declared values, and assess any applicable taxes.
Accurate and complete documentation is crucial for the customs clearance process while shipping from USA to Italy. Any errors or discrepancies in the paperwork can lead to delays. This includes proper labeling, descriptions, values, and required permits. Collaborating with a shipping provider experienced in shipping, ensures that your documentation is thorough and correct, reducing the risk of delays.
Import Regulations and Restrictions
Italy, like any other country, has specific import regulations and restrictions that must be adhered to. Certain items may require additional permits or certifications before they can enter the country. It's vital to be aware of these regulations and ensure that your shipment complies with them to avoid unnecessary delays at customs.
Weather and External Factors
While not entirely within anyone's control, weather conditions and external factors such as strikes, civil unrest, or natural disasters can lead to unexpected delays in shipping to Italy from USA. These factors can impact transportation routes, ports, and airports, causing disruptions to the regular shipping schedule.
Local Holidays and Peak Seasons
Italian holidays and peak shipping seasons can significantly impact delivery schedules. Public holidays in Italy may lead to government offices and customs being closed, causing delays in processing and clearance. Similarly, peak shipping seasons, such as the holiday season, can lead delays in delivery times.
What Can and Cannot Be Shipped to Italy?
Shipping from USA to Italy allows for the transportation of personal and commercial goods, documents, and non-restricted items. However, there are limitations on certain items that require careful attention.
Guidelines and Restricted Items When Shipping to Italy
To ensure compliance, it's advisable to refer to the Italian Customs Agency or your chosen shipping carrier for precise regulations and restrictions.
While most items can be shipped to Italy, there are specific categories subject to restrictions, such as:
Perishable Food Items

Alcohol

Firearms

Hazardous materials

Certain electronics and equipment

General Guidelines for International Shipping to Italy
When engaging in international shipping from USA to Italy, it's imperative to acquaint yourself with the overall guidelines and restricted items to guarantee adherence to customs protocols. This knowledge ensures a smooth shipping experience.
Accuracy and completeness of customs forms and documentation, encompassing commercial invoices, packing lists, and essential permits or licenses, is paramount.
Imported goods may be subject to duties and taxes, contingent upon their value and classification. Recipients hold the responsibility for settling these charges in accordance with the regulations.
What are the Advantages of Choosing SFL Worldwide for Shipping to Italy?
There are several benefits to using SFL Worldwide for shipping to Italy:

SFL Worldwide provides competitive pricing for shipping to Italy. Through our collaborations with major carriers, we extend discounts of up to 70% on rates, ensuring affordability for our customers.

Navigating Italy's intricate customs clearance process can be demanding. With extensive experience in Italian customs procedures, SFL Worldwide streamlines this complex step, facilitating swift and efficient clearance.

Our array of shipping options to Italy includes air freight, ocean freight, and express courier services. This range empowers you to choose the method that aligns with your timeline and budget.

We recognize that every shipment is distinct. SFL Worldwide crafts customized solutions to suit your specific requirements, whether you're transporting small parcels, bulk shipments, or oversized items.

We offer real-time shipment tracking, granting you visibility into your package's journey from start to finish, fostering transparency and peace of mind.

Dedicated Customer Support
Our committed customer support team is available to address queries and concerns via phone, email, or live chat. With SFL Worldwide, you're never alone on your shipping journey to Italy.
Partnering with SFL Worldwide

Partnering with Fulfillment Professionals
For a seamless and stress-free shipping from USA to Italy, it's crucial to engage with specialists well-versed in the intricacies of Italy's regulations and customs procedures. Our team of experts assists individuals and businesses in streamlining their international shipping endeavors.

Obtain Fulfillment Pricing
As you embark on your shipping venture from USA to Italy, the choice of a shipping and fulfillment company is pivotal. It's essential to acquire pricing details and contrast rates to pinpoint the most budget-friendly solution. Requesting a quote is your avenue to obtaining precise and comprehensive information.