Quick, On-time
shipping to Italy
Experience quality logistics at discounted rates of up to 70% off on leading carriers, such as FedEx, DHL, and UPS, using our instant rate calculator only on SFL Worldwide!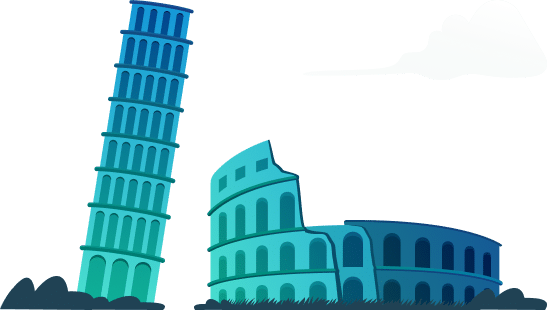 Get Quote and Save UPTO 70% on your next shipping

Please select from country

Please select to country
Global Shipping To Italy From USA
SFL Worldwide is here to help you find the lowest shipping rates from leading carriers, such as FedEx, UPS, and DHL to send a package to Italy. Compare carriers and print prepaid labels with complete door-to-door international shipping to Italy. Get quotes within seconds and complete your booking in no time, only on SFL Worldwide!
Shipping to Italy from USA
Shipping US to Italy has never been easier. With SFL Worldwide's instant rate calculator, negotiations are a thing of the past. You can now compare couriers, pick the best one, and get your shipments booked within seconds on our website. Our shipping advisors are available 24/7 to help you with all your customs documentation and shipping needs.
Here is a sample cost for shipping a package to Anzio-00042, Italy from Dallas-75234 TX. *prices may vary
Rate
Transit Time
Tracking
Door Pickup
Door Delivery
Delivery Confirmation
Custom Duty
$38.00
2-4 B. Days
Yes
At Additional Cost
Yes
Yes
Included
$55.00
3-5 B. Days
Yes
At Additional Cost
Yes
Yes
Excluded
$110.00
3-5 B. Days
Yes
At Additional Cost
Yes
Yes
Excluded

55% Off
Exclusive Discount
$225.00 $100.00

66% Off
Exclusive Discount
$190.00 $65.00

60% Off
Exclusive Discount
$200.00 $80.00
Italy Customs Declaration
Italy is part of the European Union and therefore, adheres to laws and regulations by the EU on goods entering the country. Eliminate the chance of confiscation and delays in shipping with exclusive shipping advisors with every booking on SFL Worldwide. Your dedicated shipping advisor helps you prepare the necessary documentation to ensure you have a quick customs clearance. Like every other country, you must submit a written declaration that enlists and describes the items of your shipments, their value, quantity, and more.
Some of the documents to include in your customs declaration are –
Commercial Invoice
Packing List
You will also be advised on prohibited items for Italy. We highly recommend checking out the Resources section of our website for more information on shipping to Italy.
The transit times to ship a package to Italy varies depending on the type of shipment, the service and carrier chosen, and more. Typically, the faster you need your shipment to reach your destination, the higher the costs. That said, there are a couple of other factors that can have an impact on the delivery times for your shipment. Natural disasters, supply chain issues, misinformation or omitting information from your customs declaration can result in a shipping delay.
If fast delivery is the need of the hour, we highly recommend opting for an Express Shipping service to get your package delivered in the fastest time possible.
SFL Worldwide Easy Shipping Process
Traditional methods of shipping a package can be a laborious and time-consuming process. At SFL Worldwide, our goal is to simplify shipping and make shipping packages with any carrier of your choice a breeze.
From finding low rates to dedicated shipping advisors to preparing customs documentation, we have got you covered. Whether you are moving homes or relocating for work, you can complete your booking within seconds on our website in a seamless manner.
Here is a quick overview of our simple shipping process.

Finding a carrier for your needs is now easier than ever. For years, shopping for quotes was a highly time-consuming process. With SFL Worldwide's instant rate calculator, you can now say goodbye to laborious quotation shopping and enjoy instant shipping quotes within seconds. Our rate calculators get discounted quotes from major carriers you trust, such as FedEx, DHL, and UPS.

Now that you have exclusive, discounted rates from all carriers, you can select a service for your timeframe and budget. Our rate calculator makes it easy for you to compare and decide on an ideal service for your shipment. Please note that our support staff is always available to answer any questions before choosing the right service for your needs.

That's it! Once you choose the service, your booking is complete, and you are ready to ship your package by printing the prepaid label provided on the booking. We provide a tracking number and SFL account upon booking your shipment. You can use this SFL account to quickly access information on all your shipments and book future shipments on SFL Worldwide.
Cargo Options For Shipping To Italy
SFL Worldwide offers access to a wide range of leading carriers, such as FedEx, DHL, and more, with extensive connections to ship your cargo around the world in the most efficient manner possible. We highly recommend ocean shipping to our customers with large freight needs and cost-effective prices. The rates for ocean shipping are significantly lower than other modes of shipping.
The most commonly used cargo options for shipping to Italy from the US –
LCL or Less Than Container Load
LCL is an acronym for "Less than Container Load". In the shipping industry, it stands for a single shipper's goods that do not occupy an entire container. We highly recommend this cargo option to our shippers with fewer goods as it splits the container space among shippers, letting you take advantage of the low shipping prices of sending cargo via the ocean.
FCL or Full Container Load
FCL or Full Container Load is when a single shipper has enough cargo to fill up an entire container. This container is exclusive to the shipper, and the container space is not shared with others. We highly recommend this cargo option to our shippers with larger cargo, such as when moving homes or organizations and those seeking extra security in their shipments.
Common Documents Needed While Shipping To Italy
Diligent submission of accurate information is important when shipping to Italy. At SFL Worldwide, every booking is assigned a dedicated shipping advisor who takes care of guiding you every step of the way with customs documentation.
Items of a high value must be declared at the Customs Office with a brief declaration (air or maritime manifest) for the collection of goods.
These goods must also be accompanied by certain documents required by the Italian customs authorities.
SAD or Single Administrative Document
All shipments entering Italy are subject to certain procedures as per the Single Administrative Document. The SAD is essentially a document that describes the content of a shipment and documents every move made around the world until customs formalities are completed at the destination.
The commercial invoice contains crucial information on the exact transaction between buyer and seller. The following information needs to be provided in the invoice.
Certificate of origin

Country of purchase

Date of issue
A detailed description of the items

Quantity

Other information related to the items.
It is important to declare if your shipment has dangerous goods, such as batteries, lithium, weapons, and more. You may have to submit additional documentation declaring the above separately.
EORI stands for Economic Operators Registration and Identification Number. Any business or person wishing to ship items to Italy must hold this EORI number to be able to import or export goods to and from Italy. This number is used for statistical purposes.
Why Choose SFL Worldwide For Shipping To Italy
SFL Worldwide is a leading logistics platform that gets you discounted shipping rates for all leading carriers, such as FedEx, DHL, and UPS. We understand the frustration behind never-ending negotiations, long holds, and research to get a decent price for your shipment. Our instant calculators grab what you need and eliminates the frustration in seconds when you book a shipment with us. Our services are timely, reliable, and secure. Book your next shipment to Italy with our simplified shipping process of 3 easy steps. Follow these steps below for a hassle-free experience.
24/7 support to track your packages every step of the way!

Easy interface to get a quote and book within a few clicks!

Comprehensive resources for quick, reliable information!

Do check out our resources section for additional information on customs regulations and what to expect at customs clearance.

Prohibited Items To Italy
Do you need to figure out what is banned from shipments to Italy? The Italian government follows strict regulations on imports into the country. Check our resource section for prohibited items for shipments to Italy. We update this list frequently, so verify the latest with your advisor when shipping or moving to Italy.
Frequently Asked Questions For Shipping To France