Shipping to Spain from USA: Reliable and Timely
Whether you're shipping personal items or business goods, choose our shipping services to ship to Spain from US. Start shipping today!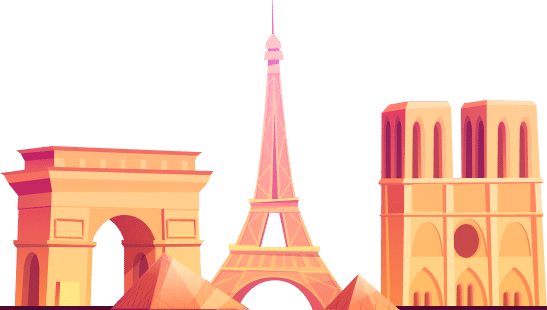 Get Quote and Save UPTO 70% on your next shipping

Please select from country

Please select to country
Shipping To Spain from USA
At SFL Worldwide, we take the hassle out of shipping to Spain from USA, ensuring your goods reach their destination with efficiency and care. With our extensive network and expertise, we offer tailored solutions to meet your shipping needs, whether it's for personal items, business cargo, or e-commerce products.
Our comprehensive services encompass everything from packaging and documentation to customs clearance, making the entire process smooth and worry-free. We understand the complexities of international shipping regulations and work diligently to minimize delays and ensure your shipment complies with all requirements.
Choose SFL Worldwide for competitive pricing, reliable tracking, and dedicated customer support throughout your shipping journey. With years of experience in the industry, we pride ourselves on being a trusted partner for seamless shipping to Spain. Your satisfaction is our priority, and we're committed to delivering beyond your expectations.
How Much Does it Cost to Ship to Spain?
The cost of shipping to Spain from USA varies depending on factors like package size, weight, shipping speed, and chosen services. SFL Worldwide provides competitive pricing tailored to your needs. We offer transparent quotes and work to find cost-effective solutions without compromising on quality. Contact us for a personalized estimate and discover the affordable options for shipping to Spain.
NOTE: The discounted rates mentioned below were verified and updated in November 2023. For the latest pricing details, please visit the Get Rate page.
SFL Rate (Discounted)
Service Type
Transit Time
Tracking
Door Pickup
Door Delivery
Delivery Confirmation
Custom Duty
$93.60 $32.76
FedEx Connect Plus
2-4 B. Days
Yes
At Additional Cost
Yes
Yes
Included
$270.79 $59.22
FedEx Intl Economy
7-14 B. Days
Yes
At Additional Cost
Yes
Yes
Excluded
$528.84 $118.44
FedEx Intl Economy
7-14 B. Days
Yes
At Additional Cost
Yes
Yes
Excluded
$1,225.15 $240.86
FedEx Connect Plus
7-14 B. Days
Yes
At Additional Cost
Yes
Yes
Excluded

55% Off
DHL Exclusive Discount
$225.00 $100.00

66% Off
FedEx Exclusive Discount
$190.00 $65.00

60% Off
UPS Exclusive Discount
$200.00 $80.00
Best Way to Send A Package to Spain from US
You should take note of the following details while sending a package to Spain:

Choose a reputable carrier like SFL Worldwide with a tracking system and insurance.


Determine weight
and dimensions

Put the correct recipient's details

Fulfill custom requirements
Fill out the customs declaration form and attach it to the outside of the package.
How to Ship to Spain With SFL Worldwide and Save!
Shipping to Spain with SFL Worldwide is a streamlined process that not only ensures your items arrive safely but also helps you save on costs. Our expert team guides you through each step, from packaging to documentation, making international shipping hassle-free.
To save on your shipment, consider consolidating items to optimize space and reduce shipping costs to Spain. We offer flexible shipping options, allowing you to choose between economy and express services based on your timeline and budget. Our competitive rates ensure you get value for your money without compromising quality.
With SFL Worldwide, you'll also benefit from our extensive network and experience in navigating customs procedures. This helps prevent unexpected delays and additional charges. Trust us to deliver your goods to Spain efficiently while keeping your expenses in check.
An Easier Way to Ship to Spain

Schedule your shipment on our website www.sflworldwide.com with sender and receipt information along with package and payment details.

Printing shipping labels are very easy at SFL Worldwide. Simply download and print your prepaid label from any regular printer.

You can either drop your package off at the nearest location (FedEx, DHL, and UPS) or arrange for a complimentary pickup at your doorstep.
Which Carriers Ship to Spain?
SFL Worldwide partners with renowned carriers like FedEx, UPS, DHL, and more to provide reliable shipping services to Spain. These carriers offer a range of options, including standard and express shipping, allowing you to choose the service that best suits your needs.
| | Service | Price* | Delivery Time |
| --- | --- | --- | --- |
| FedEx | International Priority® | $61.55 | 2 to 5 business days |
| FedEx | International Connect Plus | $54.56 | 6 to 10 business days |
| FedEx | International Economy® | $59.22 | 6 to 10 business days |
| UPS | Worldwide Expedited | $57.98 | 2 to 5 business days |
| UPS | Worldwide Saver | $64.60 | 2 to 5 business days |
| USPS | Priority Mail Express International | $86.36 | 3 to 5 business days |
| USPS | Priority Mail International | $69.90 | 6 to 10 business days |
| DHL | Global Express | $91.74 | 6 to 7 business days |
NOTE: SFL Worldwide provides discounted rates through various carriers for shipments from the US to Spain. The above mentioned prices are calculated based on respective carrier calculators for a 5 lbs package in November 2023, and are subject to change.
Cheapest Shipping Options to Spain
When shipping to Spain from USA, it's essential to choose the right carrier that aligns with your requirements. Consider aspects like shipping speed, pricing, reliability, tracking, insurance, and other vital factors for your shipment's success.

FedEx is a trusted international carrier offering efficient shipping services to Spain. With a range of options available, you can find the one that suits your shipping needs. The delivery time for FedEx shipments to Spain varies from 2 to 5 business days.

DHL, is a global logistics leader known for its express services. For shipping to Spain, DHL offers expedited options that ensure swift and dependable delivery. The shipment time for DHL deliveries to Spain can range from 2 to 6 business days.

UPS boasts an extensive network in Spain, providing diverse shipping services. Tailored to different needs, UPS offers solutions with delivery times ranging from 2 to 7 business days, ensuring your items reach Spain reliably.

The United States Postal Service (USPS) extends
its international shipping services to Spain. First-Class Mail International is a cost-effective option with a delivery time of 2 to 4 weeks, providing an economical choice for shipping from USA to Spain.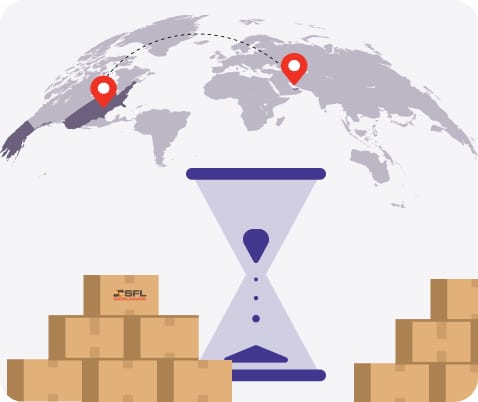 Shop from Any US Store and Ship to Your Door in Spain
Discover the convenience of shopping at any US store and having your selected items delivered right to your doorstep in Spain through SFL Worldwide. By registering for a FREE US address, you can indulge in shopping to your heart's content at your preferred American retailers, while we manage the intricacies of shipping logistics.
We've forged partnerships with leading carriers like FedEx, DHL, and UPS to ensure the dependable and timely delivery of your purchases to Spain. SFL Worldwide simplifies the process of booking your shipments, offering you an effortless and streamlined avenue to access US products.
How Long Does it Take for Shipping to Spain from USA?
Shipping times from the USA to Spain can vary based on the carrier, shipping method, and specific factors influencing international transit. Typically, express shipping to Spain from USA offer quicker delivery times compared to standard options.
When opting for expedited services, such as those provided by FedEx or DHL, shipments can arrive in Spain within a range of 2 to 6 business days. These carriers prioritize speed and efficiency, making them suitable choices for time-sensitive shipments.
For standard shipping from USA to Spain, the duration can extend to around 5 to 10 business days or even longer, depending on the carrier and the routes involved. This option is often more economical but may require a longer wait time.
Factors affecting shipping times include the origin and destination locations, any customs clearance processes, weather conditions, and potential delays during peak seasons or holidays. It's essential to check with your chosen carrier for estimated delivery times and to consider any possible disruptions that might impact the schedule.
To minimize delays, it's advisable to provide accurate and complete shipment information, ensure proper packaging, and adhere to any customs regulations. Additionally, choosing a carrier with a reliable track record for international shipping to Spain from USA can help ensure a smoother and more predictable transit time.
Handling Times, Customs, and Other Delays While Shipping to Spain
Navigating shipping to Spain is a multifaceted process that necessitates a thorough grasp of handling times, customs protocols, and the potential challenges that may arise en route. Whether you're a business owner or an individual sending packages, understanding these critical elements can contribute to a smoother shipping experience.
When embarking on the journey of shipping to Spain, it's imperative to allocate an adequate amount of time for various handling tasks. These tasks encompass essential steps like packaging your items securely, labeling them accurately, and meticulously preparing all the required documentation. Rushing these steps can lead to errors and complications down the line, potentially causing delays in the shipment's arrival.
Spain, like any other country, has its own distinct customs regulations that must be adhered to. It's imperative to familiarize yourself with these rules to ensure a seamless customs clearance process. One of the most pivotal aspects is ensuring that you have all the necessary customs documentation in order. This includes but is not limited to, commercial invoices, packing lists, and any mandatory licenses or permits.
The customs clearance process can occasionally lead to unforeseen delays in the shipping from USA to Spain. Factors such as the volume of shipments being processed, thorough inspections, and the verification of documentation can all influence the overall delivery timeline. Planning ahead and accounting for potential customs-related setbacks can help you manage expectations on your end and communicate effectively with recipients in Spain.
Local Holidays and Peak Seasons
It's prudent to take into account the local holidays and peak shipping seasons within Spain when orchestrating your shipments to Spain. These periods often witness heightened demand for both customs clearance and transportation services. This surge in demand can potentially lead to delays in processing and delivery. By staying informed about these times, you can proactively adjust your shipping to Spain from USA to accommodate these fluctuations and minimize any potential disruptions.
The accuracy and completeness of your shipping documentation are paramount. Even minor inaccuracies or omissions in your paperwork can lead to delays in customs clearance or even the outright rejection of your shipment. Ensuring that every detail in your documentation is meticulously accurate and complete can significantly expedite the customs process and contribute to a timely delivery.
Despite the most meticulous planning, unforeseen circumstances can sometimes arise that are beyond anyone's control. Events such as adverse weather conditions, transportation strikes, or unexpected disruptions can all impact shipping schedules. While these situations can't always be predicted, having contingency plans in place can help you respond swiftly and effectively, minimizing the impact of such events on your shipments.
What Can I And Can't I Ship To Spain?
When shipping from USA to Spain, you can generally send personal and commercial goods, documents, and non-restricted items.To avoid complications and delays, understanding Spain's shipping regulations and adhering to the guidelines is crucial. Prior research and collaboration with experts can help you ship your items to Spain smoothly and without any unwanted issues.
General Guidelines and Prohibited Items When Shipping to Spain
To ensure compliance, it's advisable to consult the Spanish customs authority or your chosen shipping provider for detailed regulations and restrictions. Additionally, there are restrictions on certain categories of items, such as:
Perishable Food Items

Alcohol

Firearms

Hazardous materials

Certain electronics and equipment

General Guidelines for International Shipping to Spain
When embarking on international shipping from USA to Spain, it's crucial to have a clear understanding of Spain's regulations and prohibited items to navigate the process smoothly.
Thoroughly complete and provide precise customs forms and documentation, such as commercial invoices, packing lists, and any essential licenses or permits.
Imported items may be subject to duties and taxes, determined by their value and classification. The recipient of the shipment is accountable for settling these charges according to the relevant customs regulations.
What are the Benefits of Choosing SFL Worldwide for Shipping to Spain?
There are several benefits to using SFL Worldwide for shipping to Spain:

SFL Worldwide provides cost-effective solutions for shipping to Spain. Through our partnerships with major carriers, we extend discounts of up to 70% on rates to benefit our valued customers.

With SFL Worldwide, customers gain access to real-time shipment tracking, empowering them to monitor their packages from dispatch to delivery.

Expertise in Customs Clearance
Navigating the complexities of customs clearance in Spain can be daunting. SFL Worldwide boasts extensive experience in this area, streamlining the process for customers. We assist in swiftly and efficiently processing shipments through customs.

Convenient Shipping Options
SFL Worldwide offers an array of shipping options to Spain, including air freight, ocean freight, and express courier services. This assortment enables customers to select the mode that aligns with their specific needs and budget.

At SFL Worldwide, we recognize that every shipment is unique. This understanding drives us to provide personalized solutions tailored to the distinctive requirements of each customer, whether shipping small parcels, bulk cargo, or oversized items.

Dedicated Customer Support
Our dedicated customer support team stands ready to address any inquiries or concerns customers may have for shipping to Spain from USA. Whether through phone, email, or live chat, SFL Worldwide ensures that you're supported every step of the way during your shipping experience to Spain.
Partnering with SFL Worldwide for Your Spain Shipping Needs

Partnering with Fulfillment Professionals
For seamless and stress-free shipping to Spain, enlisting the assistance of experts well-versed in Spain's regulations and customs protocols is crucial. Our seasoned professionals at SFL Worldwide are dedicated to simplifying international shipping for individuals and businesses alike.

Inquire About Fulfillment Costs
Before embarking on your shipping from USA to Spain, consider teaming up with a reputable shipping and fulfillment company. It's imperative to obtain pricing details and conduct rate comparisons to identify the most economical option. Requesting a quote from SFL Worldwide provides you with accurate and comprehensive information, enabling you to make an informed decision tailored to your Spain shipping requirements.