Shipping to Ghana from USA: Quick and Safe
Whether you're shipping personal items or business goods, our services to ship to Ghana from US have got you covered. Start shipping today!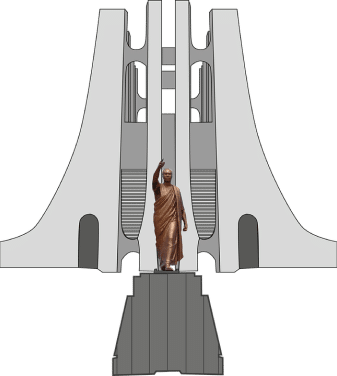 Get Quote and Save UPTO 70% on your next shipping

Please select from country

Please select to country
Shipping from the USA to Ghana has never been easier, thanks to SFL Worldwide. We specialize in seamless international shipping solutions tailored to meet your specific needs. Whether you're sending personal belongings, commercial goods, or anything in between, we've got you covered.
Our team of experts is well-versed in the intricacies of shipping to Ghana, ensuring a hassle-free experience for our customers. We offer a range of shipping options, including air and sea freight, to suit your budget and timeline.
At SFL Worldwide, we prioritize the safety and security of your shipments. We employ state-of-the-art tracking technology to provide real-time updates on your cargo's location throughout its journey. Plus, our dedicated customer support team is available to address any questions or concerns you may have.
With SFL Worldwide, you can trust that your shipments to Ghana will be handled with care and delivered on time. Experience the convenience and reliability of shipping with us today. Your peace of mind is our priority.
How Much Does Shipping to Ghana Cost?
The cost of shipping to Ghana from the USA varies depending on factors like shipment size, weight, shipping method, and destination within Ghana. Generally, shipping rates can range from a few hundred dollars for smaller packages to several thousand dollars for larger shipments. For accurate pricing, it's best to contact SFL Worldwide directly, as we offer competitive rates and can provide tailored quotes based on your specific shipping needs.
NOTE: The discounted rates mentioned below were verified and updated in November 2023. For the latest pricing details, please visit the Get Rate page.
Discounted Rates
Service
Transit Time
Tracking
Door Pickup
Door Delivery
Delivery Confirmation
Custom Duty
$141.92 $33.22
FedEx Connect Plus
2-5 B. Days
Yes
At Extra Cost
Yes
Yes
Included
$323.82 $70.53
FedEx Intl Economy
7-14 B. Days
Yes
At Extra Cost
Yes
Yes
Excluded
$874.51 $190.17
FedEx Intl Economy
7-14 B. Days
Yes
At Extra Cost
Yes
Yes
Excluded
$1656.4 $352.76
FedEx Connect Plus
7-14 B. Days
Yes
At Extra Cost
Yes
Yes
Excluded

55% Off
DHL Exclusive Discount
$225.00 $100.00

66% Off
FedEx Exclusive Discount
$190.00 $65.00

60% Off
UPS Exclusive Discount
$200.00 $80.00
How to Ship A Package to Ghana?
You should take note of the following details



Determine weight
and dimensions

Put the correct recipient's
details

Fulfill custom
requirements
Fill out the customs declaration form and attach it to the outside of the package.
How to Ship to Ghana With SFL Worldwide and Save!
SFL Worldwide is your trusted shipping partner when it comes to shipping to Ghana, and here's why. Our renowned expertise in shipping and logistics ensures your packages receive top-notch care and swift handling.
Take advantage of our budget-friendly pricing, offering substantial discounts of up to 70%, allowing you to make significant savings on your shipments to Ghana.
Our comprehensive range of shipping solutions is meticulously tailored to meet your unique requirements, guaranteeing a seamless and hassle-free shipping experience.
With SFL Worldwide, your shipments are entrusted to seasoned professionals. Our commitment to our customers shines through in every step, ensuring your journey from the USA to Ghana is a smooth and worry-free one.
Make the smart choice for your shipping needs—partner with SFL Worldwide today and enjoy unmatched quality, affordability, and customer-centric service that transforms shipping to Ghana into an efficient and cost-effective endeavor.
An Easier Way to Ship to Ghana

Schedule your shipment on our website
www.sflworldwide.com
with sender and receipt information along with package and payment details.

Printing shipping labels are very easy at SFL Worldwide. Simply download and print your prepaid label from any regular printer.

You can either drop your package off at the nearest location (FedEx, DHL, and UPS) or arrange for a complimentary pickup at your doorstep.
Which Carriers Ship to Ghana?
Ghana benefits from the services of reputable carriers such as FedEx, DHL, UPS, USPS, and other leading options. These carriers have established networks and extensive experience in international shipping, ensuring reliable and efficient deliveries to Ghana. You can choose the carrier that best suits your unique shipping needs by comparing rates and services.
| | Service | Price* | Delivery Time |
| --- | --- | --- | --- |
| FedEx | International Priority® | $90.18 | 2 to 5 business days |
| FedEx | International Connect Plus | $65.28 | 6 to 10 business days |
| FedEx | International Economy® | $70.53 | 6 to 10 business days |
| UPS | Worldwide Expedited | $94.26 | 2 to 5 business days |
| UPS | Worldwide Saver | $118.88 | 2 to 5 business days |
| USPS | Priority Mail Express International | $108.00 | 6 to 10 business days |
| USPS | Priority Mail International | $85.54 | 3 to 5 business days |
| DHL | Global Express | $136.56 | 6 to 7 business days |
NOTE: SFL Worldwide provides discounted rates through various carriers for shipments from the US to Ghana . The above mentioned prices are calculated based on respective carrier calculators for a 5 lbs package in November 2023, and are subject to change.
Affordable Shipping Carrier Options to Ghana
When choosing the right shipping carrier for your requirements, it's important to take into account various factors, including delivery speed, pricing, reliability, tracking, insurance, and other specific needs for your shipment.

A globally trusted name, FedEx offers efficient shipping services to Ghana. With versatile options to accommodate different shipping demands, delivery times typically range from 2 to 5 business days.

Known for its express shipping, DHL ensures swift and reliable deliveries to Ghana. Expedited shipping choices guarantee that your shipments arrive at their destination in about 2 to 6 business days.

With a strong presence in Ghana, UPS provides a range of services to meet diverse shipping requirements. Delivery times for UPS shipments typically span from approximately 2 to 7 business days, offering flexibility.

The United States Postal Service USPS extends its international shipping services to Ghana. For a budget-friendly option, consider First-Class Mail International with an estimated delivery time of 2 to 4 weeks, catering to cost-conscious shipping needs.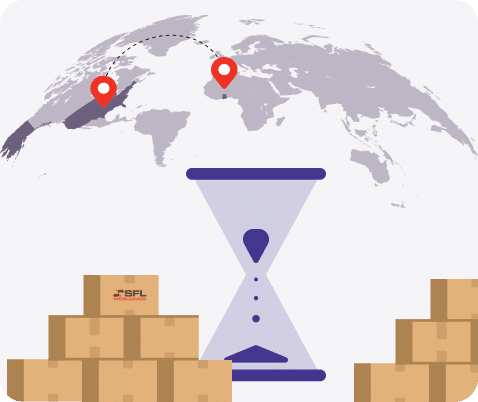 Shop from Any US Store and Ship to Any Ghanaian Address
Experience the convenience of shopping from any US store and enjoy the privilege of having your purchases delivered directly to your Ghanaian address through SFL Worldwide. Sign up for a FREE US address, shop to your heart's content from your favorite American retailers, and rely on us to handle the complex shipping logistics.
Our strategic partnerships with major carriers like FedEx, DHL, and UPS ensure swift and efficient deliveries to Ghana. Booking your shipments with SFL Worldwide is a straightforward and seamless process, providing a hassle-free way to access US products.
Embrace the joy of international shopping without constraints, and trust us to oversee the shipping of your US purchases right to your doorstep in Ghana.
How Long Does it Take to Ship from USA to Ghana?
Shipping from the USA to Ghana can vary in terms of delivery times depending on several factors, including the shipping method chosen, the specific carrier, customs clearance, and the destination within Ghana.
For expedited services like express air shipping, you can generally expect delivery times to be faster, ranging from about 3 to 7 business days. These services prioritize speed and are ideal for urgent shipments.
On the other hand, standard international shipping methods, such as sea freight, might take longer. Shipping by sea can typically range from 4 to 8 weeks or more, depending on the origin and destination ports, as well as other logistical considerations.
It's important to note that customs clearance processes can also affect shipping times. Delays can occur if there are issues with documentation, customs inspections, or duties and taxes to be paid.
To get a precise estimate for your shipment, it's advisable to consult with your chosen shipping carrier or freight forwarder. They can provide you with information specific to your shipment's size, weight, and destination, allowing you to plan your shipping timeline accordingly. Additionally, keep in mind that unforeseen circumstances like weather events or political issues can also impact shipping times, so it's wise to allow some buffer time when planning shipments to Ghana.
Navigating Shipping Processes and Potential Delays When Sending to Ghana
When shipping goods from the USA to Ghana, it's essential to understand the various factors that can influence processing times, customs procedures, and potential delays. Here are key considerations:
Shipping carriers allocate time to process and prepare shipments for their journey, which includes activities like sorting, labeling, and document verification. The specific duration of handling times varies depending on the chosen carrier and the selected service level.
All items entering Ghana must go through customs clearance. Customs officials meticulously inspect shipments to ensure they comply with regulations. The time required for customs clearance depends on factors such as the nature of the goods, the accuracy of documentation, and the volume of shipments in the queue.
When shipping from the USA to Ghana, imported items may be subject to duties and taxes based on their value and classification. Typically, recipients are responsible for these charges, and addressing any required payments or resolutions can lead to delays in the delivery process.
Transportation and Potential Delays
Shipments may encounter transportation delays due to factors like adverse weather conditions, logistical disruptions, and unforeseen events. Carriers work to minimize such delays, but they can still affect the overall shipping timeline.
Local Holidays and Peak Seasons
Taking into account local holidays and peak periods in Ghana is crucial for effective shipment planning. These times often see increased demand for customs clearance and transportation services, potentially causing delays. Staying informed about holidays and peak seasons can help adjust your shipping schedule accordingly.
To ensure a smooth shipping experience to Ghana, maintaining precise and complete shipping documents is essential. Inaccurate or incomplete paperwork can lead to delays during customs clearance or even result in shipment rejection. Thoroughly reviewing and verifying all documentation is crucial before initiating the shipping process.
What Can and Can't Be Shipped to Ghana?
Shipping items to Ghana requires careful consideration of the country's regulations regarding permissible and restricted items. You can typically send personal and commercial goods, documents, and non-restricted items to Ghana, provided they comply with Ghanaian regulations.
General Guidelines and Restricted Items for Shipping to Ghana
Certain items are restricted or prohibited when shipping to Ghana. These may include illegal substances, endangered species, and specific wildlife products. For accurate information on restricted items, it is recommended to consult the Ghana Revenue Authority (GRA) or your chosen shipping carrier. Some common examples of restricted items may encompass
Perishable Food Items

Alcohol

Firearms

Hazardous Materials

Certain Electronics and Equipment

Key Guidelines for International Shipping to Ghana
Before embarking on international shipping from the USA to Ghana, it's crucial to understand the fundamental regulations and restricted items. This ensures full compliance with customs procedures.
Provide detailed customs forms and documentation, including commercial invoices, packing lists, and any necessary licenses or permits.
Keep in mind that imported items may incur duties and taxes based on their value and classification, which the recipient is responsible for paying.
By following these principles, your shipping experience to Ghana will smoothly navigate customs processes, promoting a successful and streamlined transit journey.
Benefits of Choosing SFL Worldwide for Shipping to Ghana
There are several benefits to using SFL Worldwide for shipping to Ghana

SFL Worldwide offers highly competitive shipping rates to Ghana. Thanks to our strong partnerships with leading carriers, we pass on substantial savings of up to 70% to our valued clients.

Effortless Shipment Tracking
At SFL Worldwide, we provide real-time shipment tracking, allowing our clients to closely monitor their shipments throughout the entire shipping process.

Expertise in Ghanaian Customs
Navigating customs procedures in Ghana can be complex and time-consuming. With SFL Worldwide, you benefit from our extensive knowledge of Ghanaian customs regulations, ensuring a swift and efficient clearance process for your shipments.

SFL Worldwide offers a range of shipping choices to Ghana, including air freight, ocean freight, and express courier services. This flexibility empowers our clients to select the most suitable shipping method that aligns with their preferences and budget.

We understand that each shipment has unique requirements. SFL Worldwide specializes in crafting personalized solutions tailored to your specific needs, whether you're transporting small parcels, bulk cargo, or oversized items.

Responsive Customer Support
You can rely on our dedicated customer support team at SFL Worldwide to address any questions or concerns you may have. We are available via phone, email, or live chat to provide comprehensive assistance throughout your shipping journey to Ghana.
Partnering with SFL Worldwide for Shipping to Ghana

Working with Experienced Shipping and Fulfillment Specialists
To ensure a smooth and hassle-free shipping experience, it's essential to collaborate with seasoned professionals who possess in-depth knowledge of Ghana's regulations and customs procedures. Our team of experts is committed to simplifying international shipping for both individuals and businesses.

Gather Fulfillment Cost Information
Before embarking on your shipping ventures, it's wise to select a fulfillment company and shipping method. Gathering pricing details and comparing rates is crucial to finding the most cost-effective solution. Requesting a quote will provide you with accurate insights into the associated expenses.
Frequently Asked Questions For Ship to Ghana from US
Looking to Ship to Other Countries? Explore Here!
Your trusted logistics partner for hassle-free door-to-door shipping and moving services.
I've used SFL Worldwide for the past few years and I've been very happy with their service. They are always on time, their prices are reasonable, and their customer service is excellent. I would highly recommend them to anyone who needs a reliable courier service. Here are some specific examples of why I'm so happy with SFL Worldwide They have always been on time with my deliveries. I've never had to wait longer than expected for my package to arrive. Their prices are very reasonable. I've found that they are often cheaper than other courier services. Their customer service is excellent. I've had to contact them a few times with questions or concerns, and they have always been very helpful and responsive. Overall, I'm very happy with SFL Worldwide. They are a reliable, affordable, and customer-oriented courier service. I would highly recommend them to anyone who needs a courier service.
Mahesh Darshan
2023-05-20
Very supportive and patient. Documents reached on time. I would recommend their services to everyone. Thanks Mr, Punit for your guidance.
Best service with best rates
Chandramouli Potnuru
2023-05-11
SFL is Rocking!!! I had a urgent need to ship some legal documents to California from Texas, I have immediately called Punit from SFL as usual he has done his magic. The service is really superb and highly recommended.
Great service for my documents shipping from Hyderabad to USA. Reasonable rates and great customer service. I will recommend their services.