Shipping to Poland from the USA: Fast and Affordable
Whether you're shipping personal items or business goods, choose our shipping services to ship to Poland from US. Start shipping today!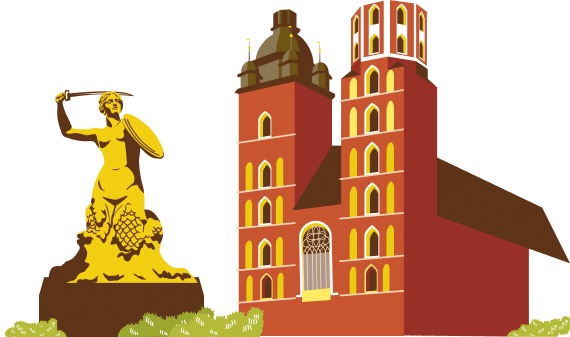 Get Quote and Save UPTO 70% on your next shipping

Please select from country

Please select to country
Shipping to Poland from the USA with SFL Worldwide is a seamless and reliable experience. Our company is dedicated to simplifying the international shipping process and ensuring your cargo reaches its destination safely and on time.
We offer a wide range of shipping services to Poland, including air freight and sea freight options, which allow you to choose the most cost-effective and convenient method for your shipment. With a global network of partners and a wealth of experience, SFL Worldwide can handle shipments of all sizes, from small parcels to large cargo.
Our team of experts will assist you with customs clearance, documentation, and logistics, ensuring a hassle-free shipping process. We understand the unique requirements of shipping to Poland, and we're committed to providing you with competitive rates and dependable service.
When you choose SFL Worldwide, you're choosing a trusted partner for your shipping needs, ensuring your goods arrive in Poland with precision and care. Contact us today to get started on your international shipping journey.
How Much is Shipping to Poland from USA?
Shipping to Poland with SFL Worldwide ensures cost-effective and competitive services. The cost of shipping to Poland can vary, depending on factors such as shipment size, weight, chosen method, and destination.
Excitingly, we are delighted to offer our valued customers the opportunity to benefit from discounts of up to 70% off our standard shipping rates. This means significant savings on your shipping expenses. To calculate your individual savings and receive a customized cost estimate, don't hesitate to contact us today. Our team is eager to assist you in discovering ways to make your shipping costs to Poland more budget-friendly.
NOTE: The discounted rates mentioned below were verified and updated in November 2023. For the latest pricing details, please visit the Get Rate page.
Discounted Rates
Service
Transit Time
Tracking
Door Pickup
Door Delivery
Delivery Confirmation
Custom Duty
$183.9 $34.51
FedEx Connect Plus
2-5 B. Days
Yes
At Extra Cost
Yes
Yes
Included
$339.13 $73.79
FedEx Intl Economy
7-14 B. Days
Yes
At Extra Cost
Yes
Yes
Excluded
$928.87 $203.64
FedEx Intl Economy
7-14 B. Days
Yes
At Extra Cost
Yes
Yes
Excluded
$2026.44 $383.1
FedEx Connect Plus
7-14 B. Days
Yes
At Extra Cost
Yes
Yes
Excluded

55% Off
DHL Exclusive Discount
$225.00 $100.00

66% Off
FedEx Exclusive Discount
$190.00 $65.00

60% Off
UPS Exclusive Discount
$200.00 $80.00
How to Ship A Package to Poland?
You should take note of the following details



Determine weight
and dimensions

Put the correct recipient's
details

Fulfill custom requirements
Fill out the customs declaration form and attach it to the outside of the package.
How to Ship to Poland With SFL Worldwide and Save!
At SFL Worldwide, we leverage our extensive knowledge and experience in the shipping and logistics industry to ensure the safe and punctual delivery of your packages. Our pricing is designed to be budget-friendly, with discounts of up to 70%, leading to substantial savings on your shipments to Poland.
We provide a range of shipping solutions tailored to your specific requirements, guaranteeing a seamless and worry-free shipping experience personalized just for you. Your shipments are handled by seasoned professionals dedicated to providing outstanding service. Our primary aim is to alleviate the complexities of your journey from the USA to Poland.
By selecting SFL Worldwide for your shipping needs, you'll experience top-tier service, cost-effectiveness, and customer-centric support that streamlines the shipping process to Poland while respecting your budget.
An Easier Way to Ship to Poland

Schedule your shipment on our website
www.sflworldwide.com
with sender and receipt information along with package and payment details.

Printing shipping labels are very easy at SFL Worldwide. Simply download and print your prepaid label from any regular printer.

You can either drop your package off at the nearest location (FedEx, DHL, and UPS) or arrange for a complimentary pickup at your doorstep.
Which Carriers Ship to Poland?
Poland offers a diverse selection of trusted shipping carriers, including well-established companies like FedEx, DHL, UPS, USPS, and other reputable choices, all geared to fulfill your shipping requirements. These carriers come with extensive expertise in international shipping and robust global networks, ensuring dependable and punctual deliveries to Poland. To find the carrier that best matches your distinct shipping needs, it's advisable to compare their rates and services.
| | Service | Price* | Delivery Time |
| --- | --- | --- | --- |
| FedEx | International Priority® | $93.39 | 2 to 5 business days |
| FedEx | International Connect Plus | $68.81 | 6 to 10 business days |
| FedEx | International Economy® | $74.25 | 6 to 10 business days |
| UPS | Worldwide Expedited | $94.26 | 2 to 5 business days |
| UPS | Worldwide Saver | $110.26 | 2 to 5 business days |
| USPS | Priority Mail Express International | $83.84 | 3 to 5 business days |
| USPS | Priority Mail International | $99.91 | 6 to 10 business days |
| DHL | Global Express | $124.30 | 6 to 7 business days |
NOTE: SFL Worldwide provides discounted rates through various carriers for shipments from the US to Poland. The above mentioned prices are calculated based on respective carrier calculators for a 5 lbs package in November 2023, and are subject to change.
Best Shipping Option from Shipping to Poland from USA
When shipping from the USA to Poland, the most suitable shipping option hinges on your particular requirements. Here are some top choices to consider

FedEx is celebrated for its efficiency and offers adaptable shipping solutions. Typically, you can anticipate deliveries within 2 to 5 business days, making it an excellent choice for swift and trustworthy shipping.

DHL is renowned for its express services, ensuring rapid and dependable deliveries. Expedited options typically lead to shipments arriving in approximately 2 to 6 business days, making it an ideal selection for time-sensitive shipments.

UPS holds a solid presence in Poland and presents a range of services. Delivery times can vary, providing flexibility within roughly 2 to 7 business days to meet various shipping requirements.


The United States Postal Service USPS also extends international shipping services. For a more budget-friendly alternative, consider First-Class Mail International, which usually takes around 2 to 4 weeks for delivery. This option accommodates a variety of shipping preferences, particularly when time sensitivity is not the primary concern.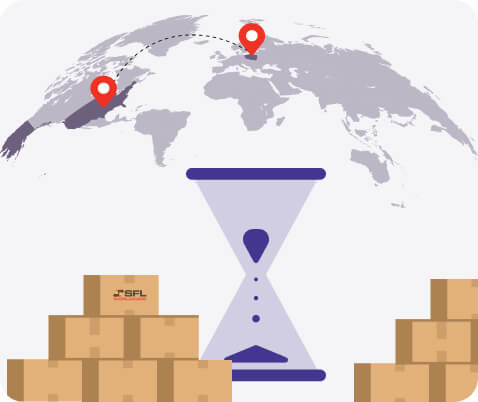 Shop from Any US Store and Ship to Any Poland Address
Experience the ultimate convenience of shopping at any U.S. store and having your purchases delivered directly to your doorstep in Poland, all thanks to SFL Worldwide. Obtaining a FREE U.S. address is a straightforward step that grants you the freedom to shop at your preferred American retailers, while we take care of all the intricate shipping details.
We've forged robust partnerships with well-known carriers such as FedEx, DHL, and UPS, guaranteeing swift and efficient deliveries to Poland. The process of booking your shipments with SFL Worldwide is user-friendly, offering you a hassle-free means to access products from the U.S.
Indulge in the excitement of international shopping without constraints and place your trust in us to expertly handle the shipping of your U.S. purchases, right to your doorstep in Poland.
How Long Does it Take to Ship from USA to Poland?
The shipping duration from the USA to Poland is subject to variation due to several influencing factors, including the selected shipping method, service type, customs procedures, and the geographical distance between the point of origin and the destination.
When utilizing the services of FedEx, DHL, or UPS, renowned for their speed and reliability, shipments to Poland typically reach their destination in approximately 2 to 5 business days. However, if you're shipping larger or less time-sensitive items, ocean freight offers a more economical option but involves a longer transit time, typically spanning from 4 to 6 weeks.
The timeline for customs clearance plays a pivotal role, as it can impact the overall shipping duration. Both U.S. and Polish customs authorities must examine and process your shipment, and this can take varying durations, ranging from several days to a couple of weeks. The exact time frame depends on the complexity of the shipment and the efficiency of the customs procedures in place.
What Can and Can't Be Shipped to Poland?
When sending items to Poland, it is vital to have a good understanding of the country's shipping regulations, which define what can be shipped and what items are restricted. In general, you can send personal and business items, documents, and products that align with Poland's regulations and are not on the list of restricted items. However, for a smooth and compliant shipping experience to Poland, it is advisable to consult with relevant authorities or your chosen shipping provider to get specific guidelines and identify any potential restrictions. This proactive approach ensures that your shipments to Poland are in accordance with the applicable rules and regulations.
Basic Guidelines and Restricted Items for Shipping to Poland
When shipping to Poland, adhere to their guidelines: allowed items include personal and business goods, documents, and items compliant with Polish regulations. Consult authorities or your chosen shipping provider for specifics. Avoid restricted items for a hassle-free shipping experience such as
Perishable Foods Items

Alcohol

Firearms

Hazardous materials

Certain electronics and equipment

Key Guidelines for International Shipping to Poland
Before embarking on international shipping from the US to Poland, it's crucial to gain a comprehensive understanding of the relevant regulations and the list of prohibited items. This knowledge is invaluable for effectively navigating customs procedures and ensuring a smooth shipping experience.
Properly completing all required customs forms and documents is of utmost importance. This includes comprehensive commercial invoices, detailed packing lists, and any necessary licenses or permits. Accurate documentation is the linchpin of a seamless customs process.
It's worth noting that when importing goods into Poland, taxes and duties may be levied based on the value and nature of the items. Typically, the recipient of the package is responsible for these charges, so it's advisable to inform them and ensure they are prepared for potential fees.
Consider forming a partnership with a reputable shipping company like SFL Worldwide. They possess extensive knowledge of international shipping regulations and customs procedures, which streamlines the shipping process and provides you with peace of mind throughout the journey.
Why Opt for SFL Worldwide When Shipping to Poland?
SFL Worldwide presents a host of advantages for your shipping requirements

Our competitive shipping rates have the potential to save you up to 70% thanks to our robust partnerships with leading carriers.

Effortless Shipment Tracking
Our user-friendly tracking system enables real-time monitoring of your shipments, ensuring transparency from departure to the final destination.

Proficiency in Polish Customs
We possess in-depth knowledge of Poland's customs regulations, guaranteeing efficient clearance for your shipments and minimizing the risk of delays.

Select from a variety of shipping options, including air freight, ocean freight, and express courier services, granting you the flexibility to align with your preferences and budget.

Our specialization lies in crafting customized shipping solutions to cater to your specific needs, whether you're dispatching small packages, bulk cargo, or oversized items.

Responsive Customer Support
Rely on our dedicated customer support team to promptly address any inquiries or concerns via phone, email, or live chat. Your satisfaction remains our utmost priority throughout your shipping journey to Poland. Choose SFL Worldwide for a seamless and dependable shipping experience.
Why Select SFL Worldwide for Shipping to Poland

Experienced Shipping Experts
A smooth shipping process hinges on the proficiency of professionals well-versed in Poland's regulations and customs procedures. Our team is committed to simplifying international shipping for both individuals and businesses.

Clear and Transparent Pricing
Before embarking on your shipping preparations, it's prudent to select a fulfillment company and determine the most suitable shipping method. Gathering pricing details and comparing rates are crucial steps in finding the most cost-effective solution. Requesting a quote from SFL Worldwide will furnish precise information regarding the expenses, guaranteeing transparency in your shipping arrangements.
Looking to Ship to Other Countries? Explore Here!
Your trusted logistics partner for hassle-free door-to-door shipping and moving services.
I've used SFL Worldwide for the past few years and I've been very happy with their service. They are always on time, their prices are reasonable, and their customer service is excellent. I would highly recommend them to anyone who needs a reliable courier service. Here are some specific examples of why I'm so happy with SFL Worldwide They have always been on time with my deliveries. I've never had to wait longer than expected for my package to arrive. Their prices are very reasonable. I've found that they are often cheaper than other courier services. Their customer service is excellent. I've had to contact them a few times with questions or concerns, and they have always been very helpful and responsive. Overall, I'm very happy with SFL Worldwide. They are a reliable, affordable, and customer-oriented courier service. I would highly recommend them to anyone who needs a courier service.
Mahesh Darshan
2023-05-20
Very supportive and patient. Documents reached on time. I would recommend their services to everyone. Thanks Mr, Punit for your guidance.
Best service with best rates
Chandramouli Potnuru
2023-05-11
SFL is Rocking!!! I had a urgent need to ship some legal documents to California from Texas, I have immediately called Punit from SFL as usual he has done his magic. The service is really superb and highly recommended.
Great service for my documents shipping from Hyderabad to USA. Reasonable rates and great customer service. I will recommend their services.